Coquine
Coquine is often recognized as one of Portland's best restaurants for foodies, and the fact that it's super kid friendly makes me love it that much more. Truth be told, we've never yet tried it for dinner, but breakfast, brunch and lunch have always won me over.
The minute you walk in to Coquine, you know it's special. The surroundings are sleek and sophisticated without being pretentious. Everything from their dishes, flatware, wall hangings and beautiful wood adornments just say style and quality. The food reflects all this goodness at the highest level and it doesn't go unnoticed with mini diners either.
Here's why team Eaty Pie loves it as well as a rundown of what we tried: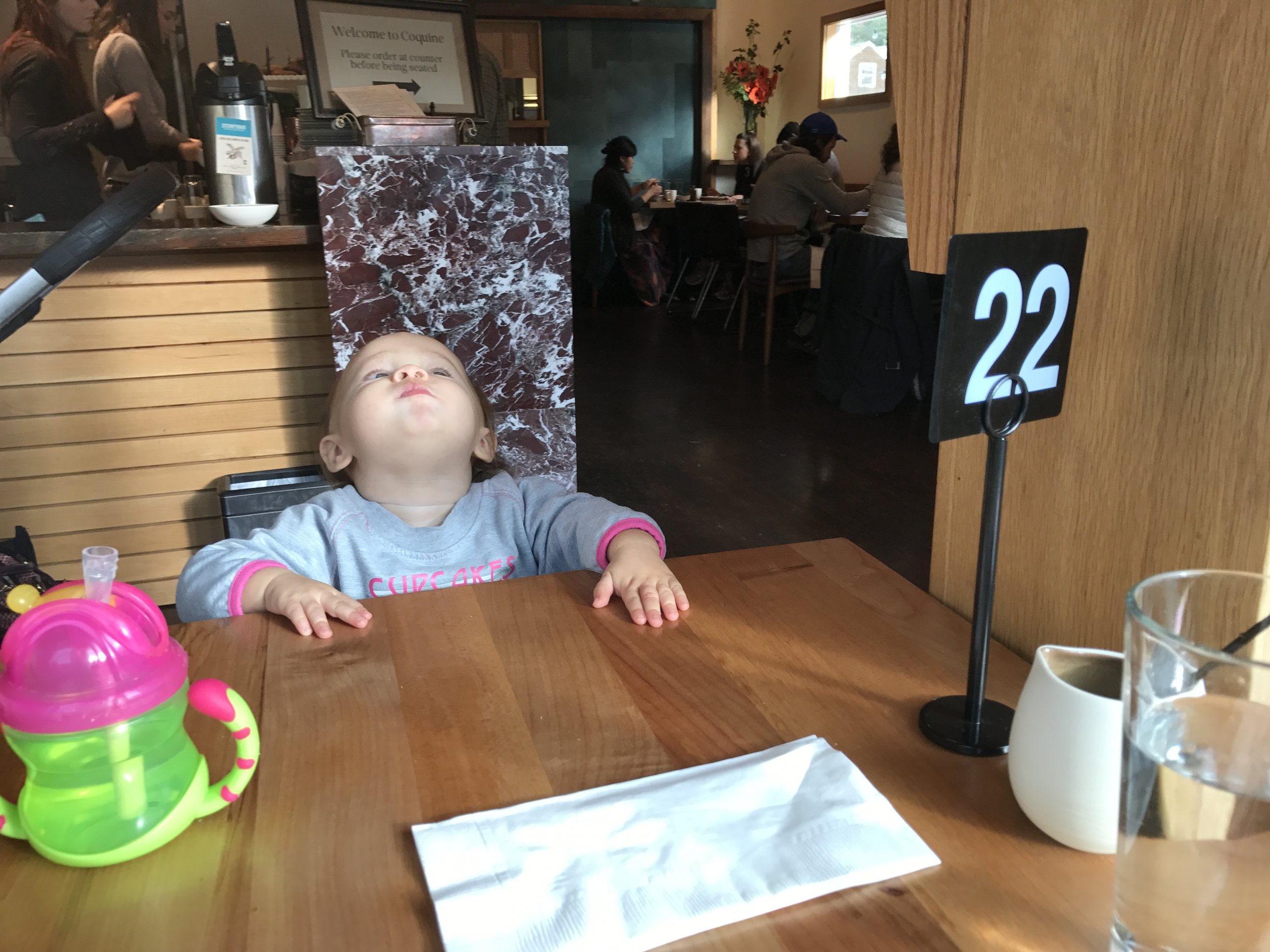 Buttermilk buckwheat biscuit - We pretty much get this each time we come here, as it's popular with Edie. Crumbly, buttery and delicious, it's a fun pastry to share. Edie loves breaking it apart.
Rye flour pancakes - "Mind, mind mind mind mind-blowing" - this is in the words of a fellow little diner who sat at the table next to us. The texture of the pancakes couldn't be more spot on, as they're a little crunchy on the outside and tender on the inside. The lemon curd that's poured on top is the absolute piece-de-resistance.
Daily hash - This dish changes seasonally, so you can expect something a little different each time. Their latest rendition includes a medley of potatoes, kale and a runny egg on top. Edie loved the starches but didn't much care for the kale. I enjoyed it but also thought it was a little greasy.
Fried egg sandwich on brioche - A very simple, no frills egg and cheese sandwich. Nestled in between two soft pieces of brioche bread, it feels more elevated but full disclosure, it's again, a bit greasy.
The Coquine chocolate chip cookie - THE BEST COOKIE in Portland in my humble opinion, and it should not be missed under any circumstances. It's a standout in terms of flavor, texture and presentation. The most indulgent, chocolatey, gooey piece of heaven you'll put in your mouth. At $2.25 it's also a good value.
Seasonal gingerbread loaf - Buying this the other day, it's the perfect size and slices into nice little rectangles. Bejeweled with plump golden raisins, they add a hint of sweetness to this earthy dessert.
Grown-up wins
Sleek atmosphere - The minute you step into Coquine, you know it's something special and not your run of the mill restaurant.
Flavorful food - Again, while the menu descriptions may sound simple, what you'll get is anything but. Expected gourmet, elevated food that'll make your mouth very happy.
Location - I love coming here because I can immediately take Edie to Mt. Tabor park after, which is only steps away.
Grab n' go option - If you don't feel like hanging around, you can grab a coffee, pastry or a sandwich to go, and take it to the park.
Kid wins
Comfy seats - I loved that they had a high chair for me but the banquette seating is nice too. The front banquette is best because I can stare out the window and bang on the glass.
People watching - Making new baby friends is never hard here, especially in the morning.
Location - It's fun when mom takes me to the playground after our meal, which is usually always.
Favorite food - The biscuit because it flakes nicely and I love eating it all by myself.
Coquine - 6839 SE Belmont Street, Portland OR. 503.384.2483
Judith Rich