Tusk
Being fans of Ava Gene's, we were eager to try Tusk, which is also one of their babies. An added bonus is that they serve Middle Eastern mezze, a cuisine that's not always easy to find in Portland.

Calling ahead to make sure they were kid friendly, Tusk's staff assured me that Edie would be welcome. Not only was this true, they sat us in the back dining room, which felt more private and was quieter than the main dining area that had music pumping. We sat comfortably and the waitstaff was friendly and charming, totally picking up everything Edie was putting down (both literally and figuratively). I'd definitely come here again, as the food is delicious, sharable and seemed to be a hit with the little.

Here's why team Eaty Pie loved it and a sampling of what we got: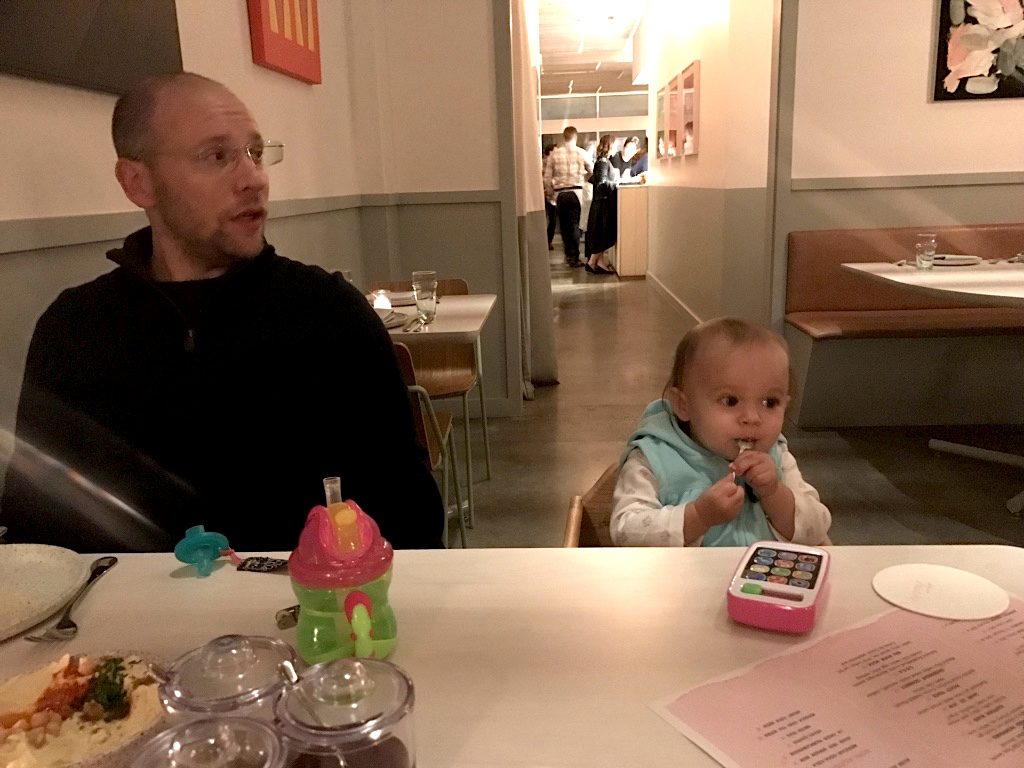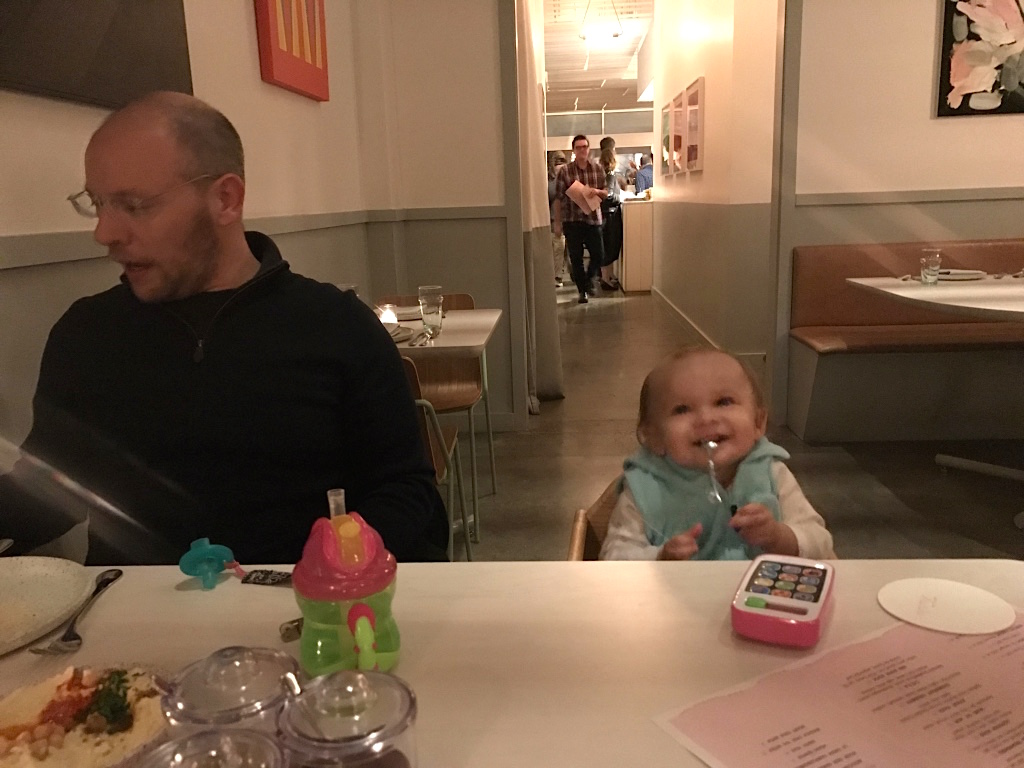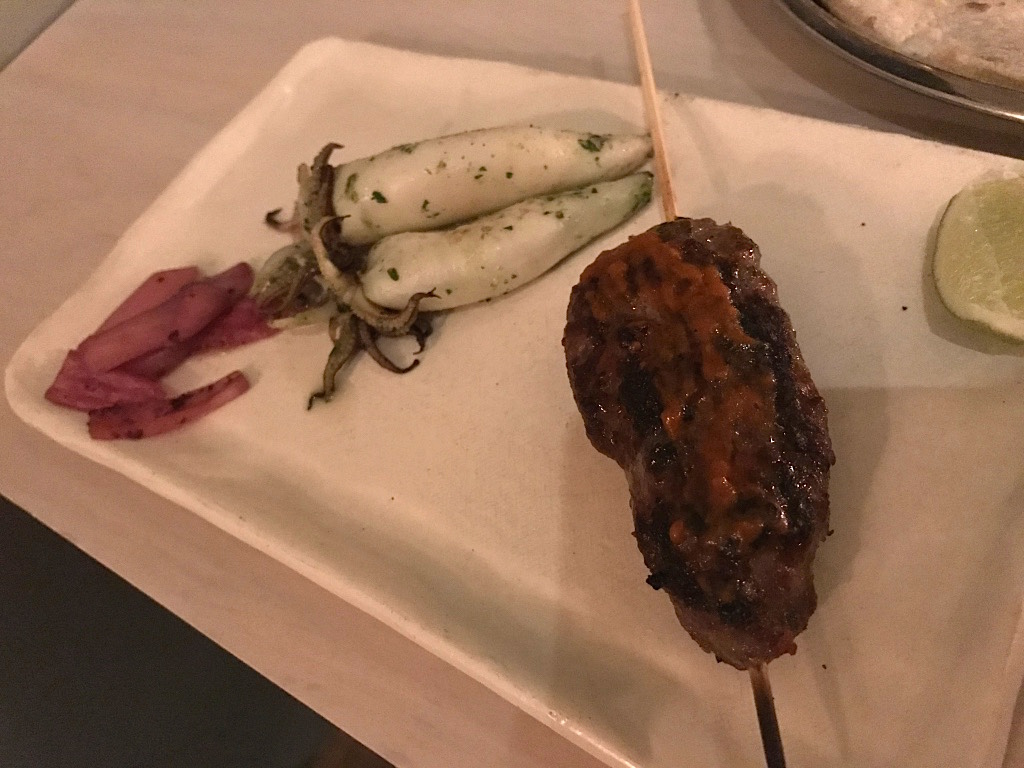 Classic Hummus - This is the first thing we got and it lasted us throughout the meal. It's not overly spicy, but you can add more heat with some additional fixins. Edie was a big fan and loved eating the hummus with the small dessert spoon they gave her. It also has to be said that the pita was phenomenal and we had seconds.
Fried halloumi - I've never seen halloumi served as sticks but it worked well. The cheese was topped with tangy yogurt sauce, dark nigella seeds, and sat on a bed of matbucha (a tomato, roast pepper stew). All three of us devoured it, and Edie loved munching on the cheese sticks.

Lamb & calamari skewer - Most of our protein came from this dish and while both the lamb and the calamari were delightful, the portion was teeny. I'd recommend doubling it between three people - especially a bottomless pitted toddler who loved the lamb.

Pear salad - Wanting to add a bit of freshness to our meal, this was the perfect choice. The salad looked beautiful, being a medley of colors and textures including everything from sunchokes, peanuts, wild rice and fermented chiles. This was by far my favorite dish of the night.
Eastern maid cocktail - A yogurt based drink, this reminded me of a lassi but turned on its ear. Aside from its creamy consistency, it also had interesting accents of celery seed, lemon and rosewater.
Grown-up wins
No reservations needed - They only take walk-ins, which is nice especially if you come early
Beautiful food - The food is bright, vibrant and tastes as gorgeous as it looks
Nice for groups - There's plenty of bigger tables and banquettes, which is nice if you're with a larger party
Favorite dish - The pear salad was totally unexpected and super fresh. I didn't feel at all guilty for polishing it off.
Kid wins
Spoons - Our waiter gave me a spoon fit just for me
Plenty of pita - It just kept on coming, and I just kept on eating
Friendly people - I made so many friends during our visit, including the waitstaff, the people sitting in back of us. Everyone smiled and waved.
Favorite dish - Hummus, hummus, hummus with that warm pita bread!
Tusk - 2448 East Burnside Street, Portland OR. 503.894.8082
Judith Rich