Skamania Lodge Weekend Getaway
Our family got graciously invited to be a guest at Skamania Lodge last weekend. A quick getaway from Portland, just 45 miles East of us, Skamania is situated in the beautiful Columbia River Gorge. We've visited the Gorge on many occasions but usually just go for the day, so this certainly felt like a treat.

Located in Stevenson, Washington, just over the scenic Bridge of the Gods, Skamania Lodge offers a sweet little respite from busy Portland life. From its sprawling estate and beautiful grounds to its spectacular views of the Gorge and fun family activities, we all found something that we loved.

There are so many things to say about Skamania Lodge, but we'll summarize it in our customary Eaty Pie fashion: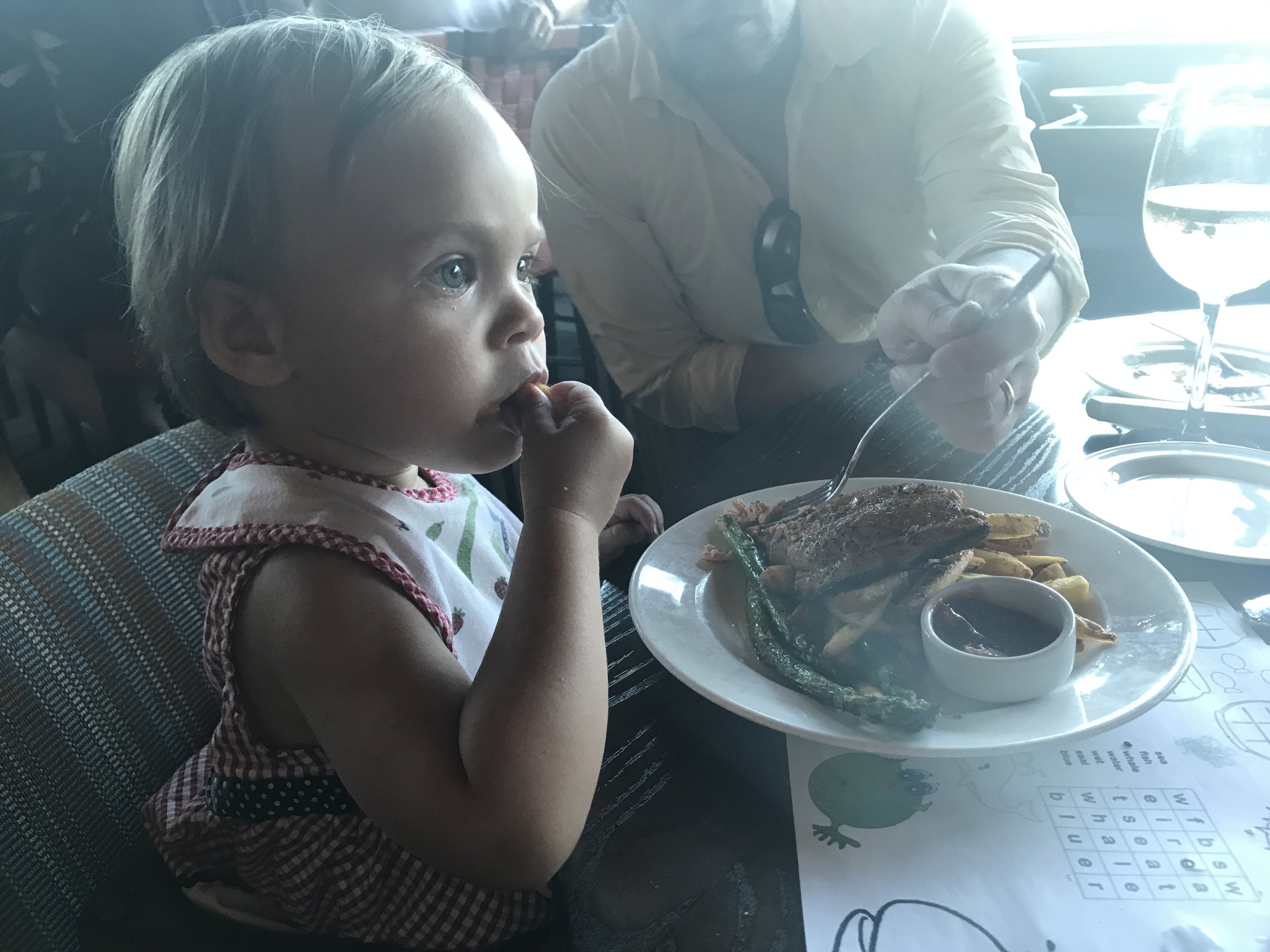 The Estate & grounds - Skamania has that classic lodge feel that makes it comfortable and relaxing - a place you want to stay in and unwind the whole day. Adorned with classic PNW touches such as beautiful wooden rocking chairs, local art displaying nature and animals, and views of the natural scenery, it's both peaceful and stimulating for the senses. Kids will love its many open spaces, as there's plenty of room to run around. Families with four legged friends are also welcome, which makes it super fun for the kiddos.

The Rooms - Again, mirroring that PNW look & feel, the rooms at Skamania are spacious and classically furnished. Many have a gas fireplace, which no doubt comes in handy during fall or winter months. We had no use for this feature in August of course, but it added to the charm of our room.

The Food - There's a few places to eat on the property, some more casual than others - and there's of course also room service. We chose the Cascade Dining room as our main dining destination and it proved to be a good experience. The views of the Gorge are spectacular and immediately help you relax after a long day. In terms of kid friendliness, they do well, as they offer both booster seats and high chairs, as well as a kid-friendly menu.
One observation about the kid portions is that they're quite large and Edie would've been well suited with even half of what she got, but the quality of everything was great. We returned to this dining room for their famous Sunday Champagne Brunch and it didn't disappoint. Featuring 5 diverse food stations, including a fresh seafood bar and a gourmet dessert station, it was tough to turn anything down.

The Hikes - We loved that Skamania offers a quick entree to many amazing hikes in the Gorge, some of which start right on the property. You can pick up their handy Hiking Guide right at the Concierge desk or ask about hikes in the nearby area. Because a lot of the on-property hikes are more challenging and I'm currently 8 months pregnant, we chose the family friendly Strawberry Island hike in Bonneville, just a quick 12-15 minute drive from the resort.

We enjoyed the hike a lot, as it didn't have lots of elevation or switchbacks, and the views werespectacular. I'd advise wearing the proper gear and bringing lots of water, since the trails in this area don't offer a lot of shade from the hot sun. My parents, who came with us loved the peaceful scenery and even enjoyed eating some local blackberries, which they foraged along the way.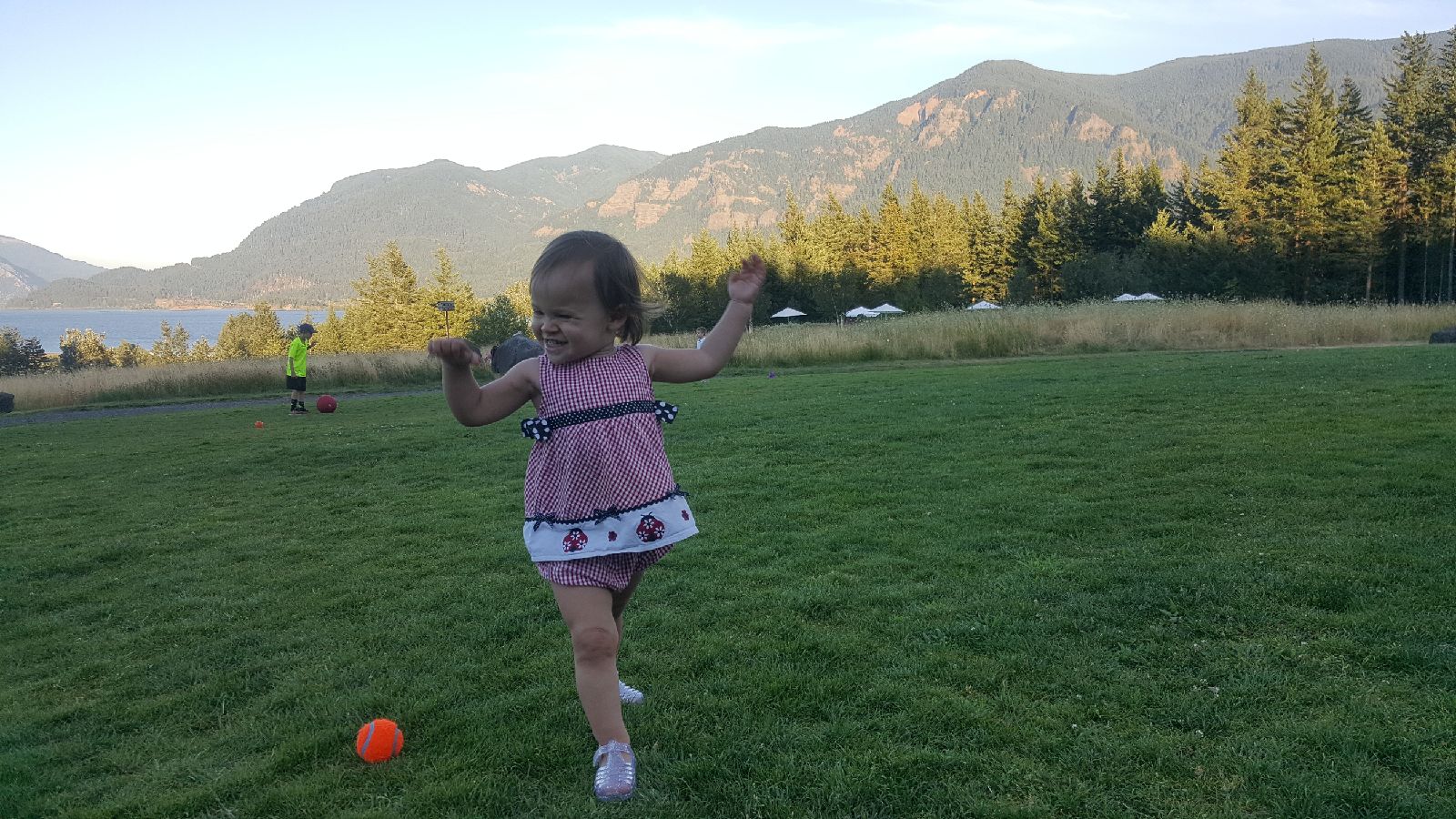 The Service - Enjoying personal, friendly service throughout our stay, everyone from the dining room staff to the front desk folks were courteous and helpful. People were especially friendly since we had a cute 2 year old with us, showering us with smiles and helpful gestures. One touch in particular that didn't go unnoticed is the cookie decorating kit we received in our room in honor of Edie's 2nd birthday. Here are some pics of that: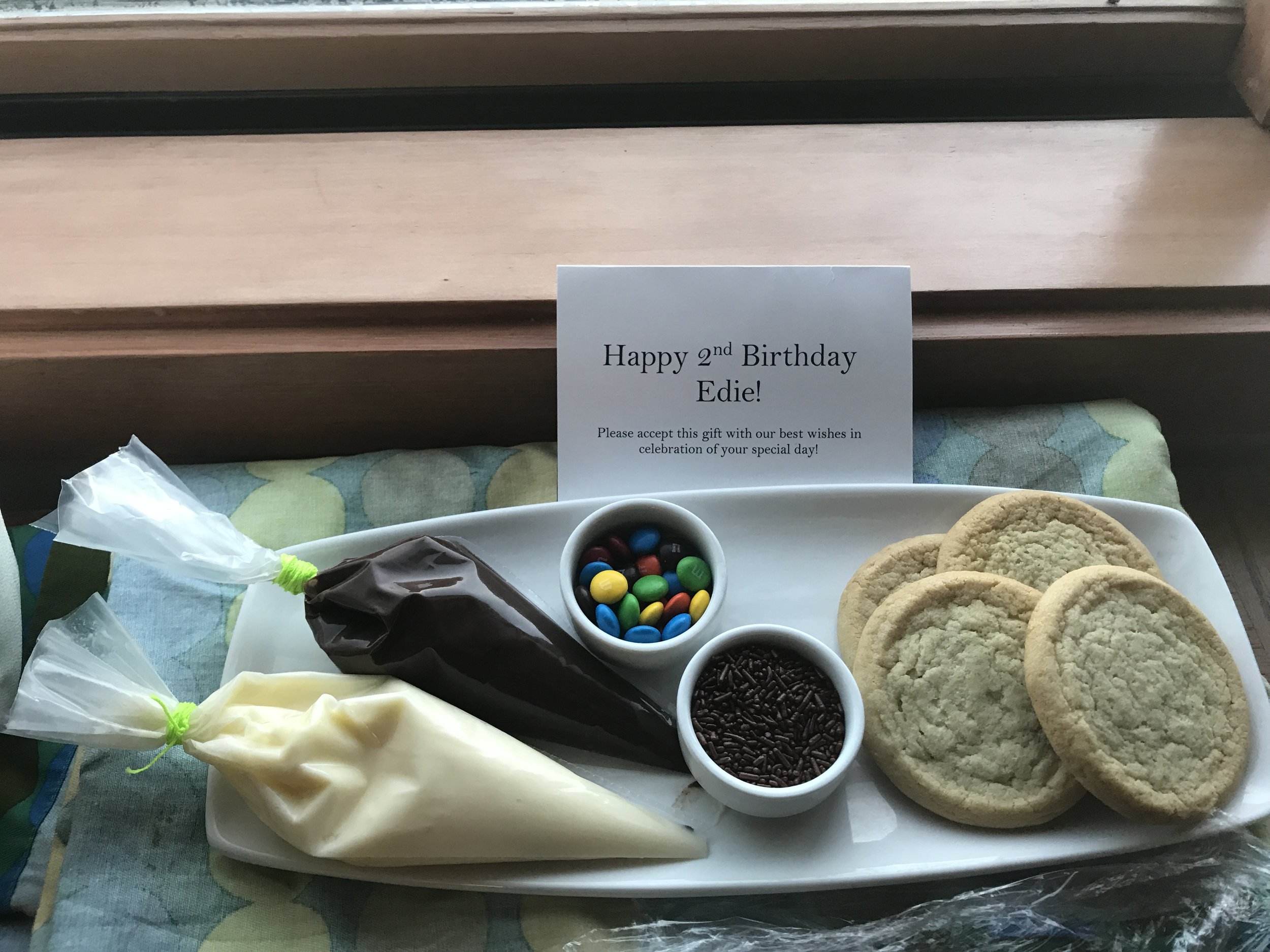 Grown up wins
Beautiful surroundings - Open access to the Gorge can't be beat and even if you just want to relax vs. being active, the scenery allows for that. Relax with a book on one of their many Adirondack chairs.
Great food - Featuring local PNW cuisine, I highly recommend trying the grilled salmon or even the salmon chowder. The Sunday brunch is decadent and pricey, but such a treat!
Fun activities & hikes - Offering lots of games for the kiddos and ways to keep them occupied, it's easy to just hang out in Skamania all day. Aside from the more traditional resort activities, they also have an amazing zipline park right on the premises and so many wonderful hikes to take advantage of.
Proximity to Portland - In just 45 minutes to an hour, you can be out of busy Portland and in beautiful Skamania Lodge.
Kid wins
Room to roam - I loved running around the big grassy area in back of the resort and throwing a Frisbee with Mama, Dada, Mia & Papa. Climbing on the Adirondack chairs was also lots of fun!
Cookies - Cookies for breakfast were delish. I even got to decorate them myself with M&Ms and chocolate sprinkles - a first for me!
The dogs - It was fun to see so many doggies and I loved coming up to them, saying hello and petting them.
The pool - Swimming in the pool, jumping in and playing with all the pool toys was a blast - so much so that I didn't want to leave!
Skamania Lodge - 1131 SW Skamania Lodge Way, Stevenson WA. 844.432.4748
Judith Rich