Handsome Pizza
Taking a trip to our old stomping grounds in NE, our family recently dined at Handsome Pizza and found it to be a great experience. Located in a hoppin' neighborhood with lots of other enticing eateries, we chose Handsome because of its laid back, kid friendly vibes. There's something comforting about a place that lets you draw on butcher paper, read picture books and make faces at oversized (and baby) stuffed dragons. Here are some other reasons why Team Eaty Pie thoroughly enjoyed our experience: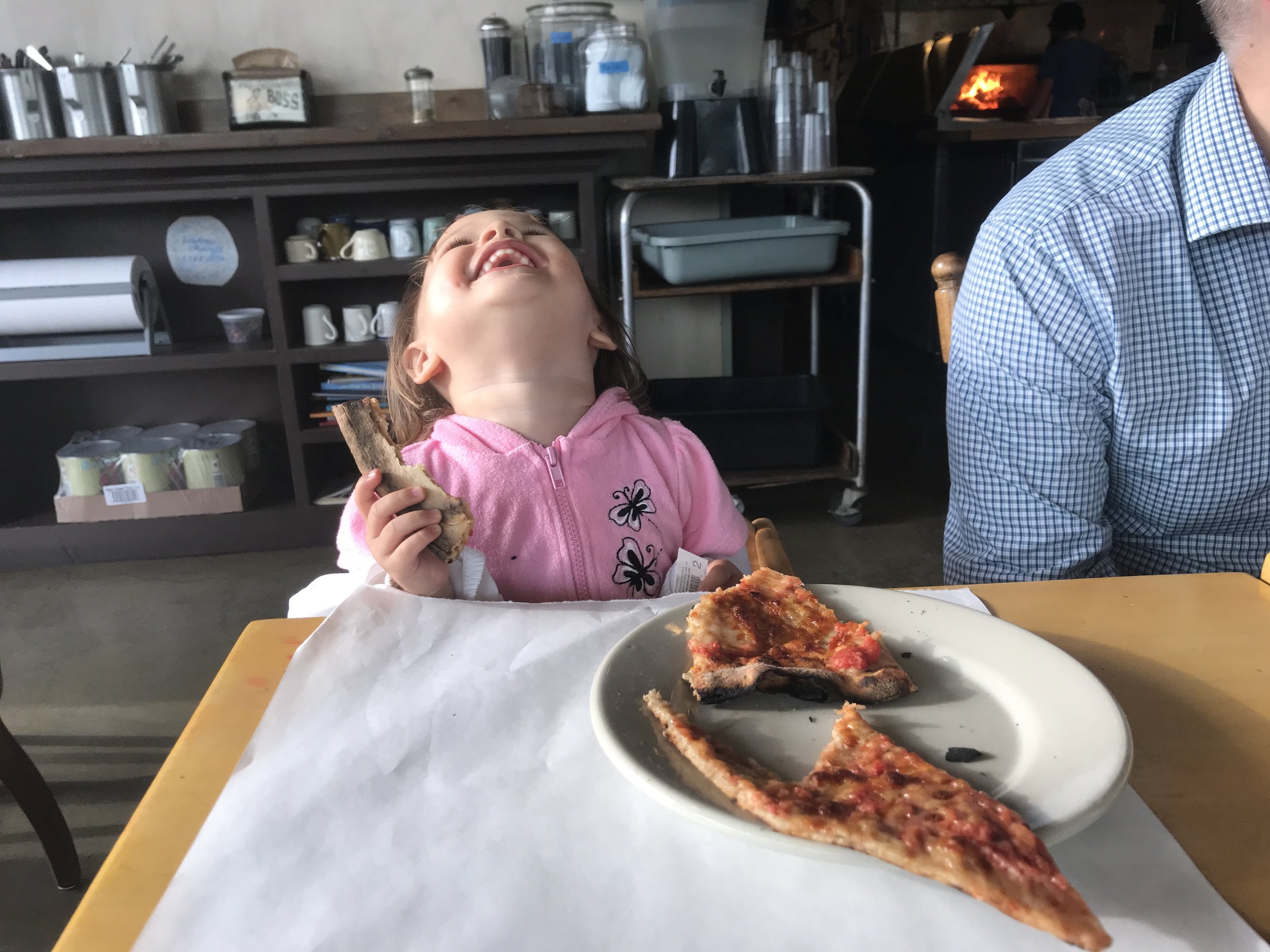 Rhubarb Mint Salad - This was the day's special and it caught my eye. We gave Edie a piece of rhubarb to try but she wasn't into it and said it was too "sour." Hubby and I enjoyed it to the last bit, and especially the crunchy seasoning of sesame seeds and other (slightly spicy) seasonings.

Slices - Edie and I opted for the pizza by the slice, which they always offer. I find this a nice option for the kiddos because you can order them something classic like a cheese slice. That's exactly what we did for Edie and she loved it. Just make note that the slices are quite big and unwieldy so you'll have to cut them to fit into those little hands.

Marianna Elyse - Hubby is a recent vegan (no comment) and went for this cheese-free pizza. Even though I wanted to be a hater, it was really excellent and I had to snag a few bites. The best part is their homemade tomato sauce, which isn't short on garlic. My fave!

Rosemary Chocolate Chip Cookie - Of course we had to end off with something sweet and this plump chocolatey cookie was the perfect thing to share. Edie's eyes instantly lit up when she saw it and hubby proceeded to cut it into thirds. Overall, it was an enjoyable treat and I liked that it wasn't overly sweet.
Grown up wins
Ample seating - It was great to see that even on a warm sunny night, there was plenty of seating, especially given its popular location.
Delectable pizza - Although this place is very kid friendly, the food is anything but dumbed down. Their pizzas are truly the star of the show, as they are simple and feature high quality ingredients.
Open air vibe - Even if you're not technically sitting outside, on nice weather days, they open all the floor to ceiling windows so you still get that alfresco feel.
Kid wins
Coloring paper & books - Daddy ripped off a big piece of butcher paper. I got to draw on it with crayons and make a blue puppy. The books they had were fun too! And then we noticed the big stuffed dragon on the ceiling!
Pizza - I loved my pizza! It was huge and mama and daddy had to cut it for me but after that, it was easy to eat. I left the crust on my plate, as usual.
Cookies - The best part of the meal was when mama got out a big chocolate chip cookie at the end of the meal. She was hiding it from me but I probably wouldn't have eaten my pizza otherwise. It was yummy in my tummy!
Handsome Pizza - 1603 NE Killingsworth St, Portland OR. 503.247.7499
Judith Rich