Full Sail Brewing
There's no comparison to the feeling you get in Portland when the weather gets warm. Since the winters are gray and dreary, the first sunny day is often celebrated and everyone seems to come out of the woodworks. Our family went on a little adventure to celebrate the sunshine, as we headed to Hood River - just 40 miles or so East of Portland. After a morning of soaking in the sun, we lunched at Full Sail Brewing Company. While we've eaten here a few times already, dining as a family of four was a new concept. Overall, the experience was very positive, the atmosphere laid back and there's nothing like that beautiful open air feel and the view of the Columbia River. Just breathtaking!

As for the food and our experience, here's why team Eaty Pie liked our visit: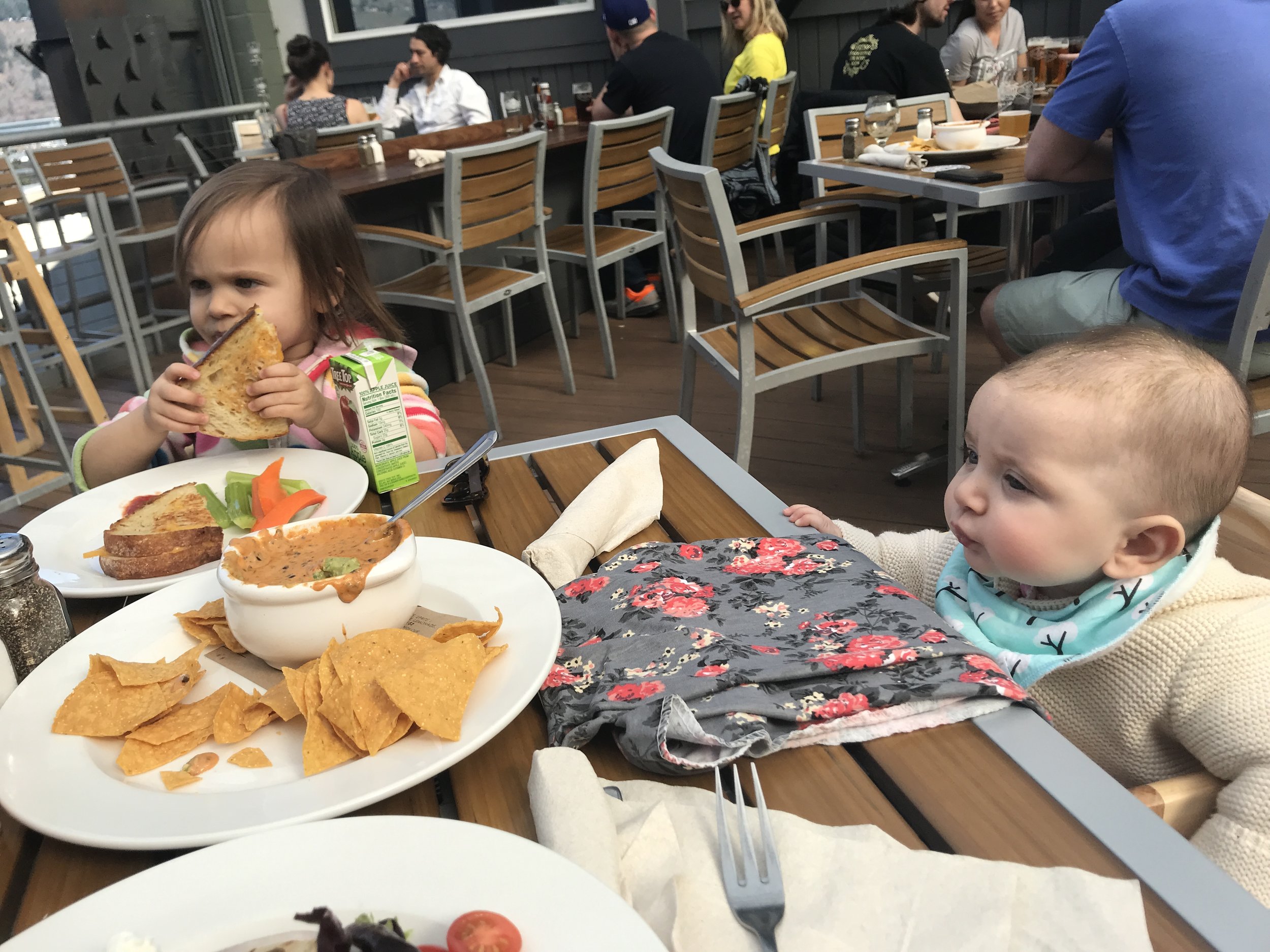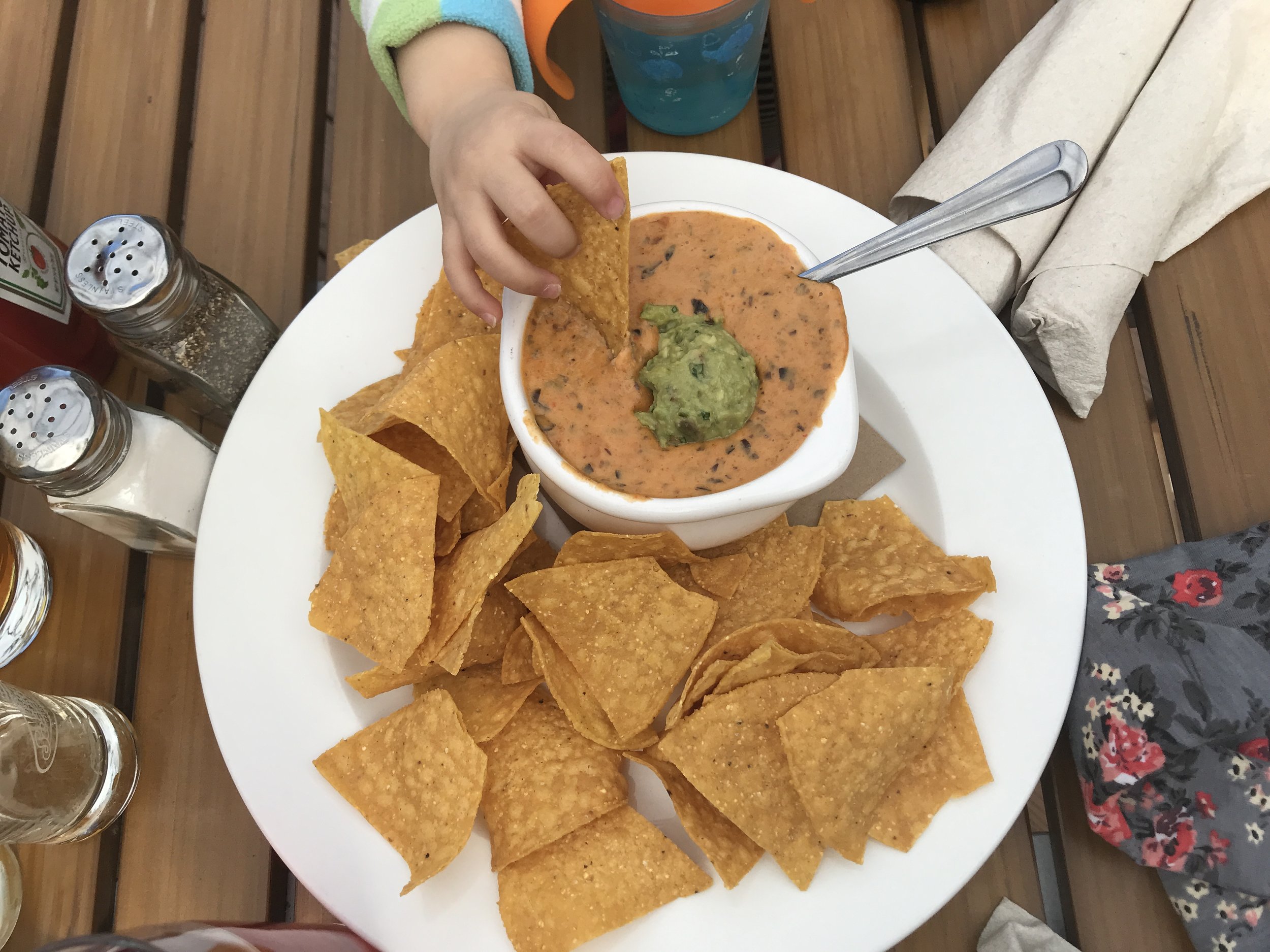 Black bean queso dip - We ordered this as an appetizer, and while I thought it would be a fun dish to share with everyone, it wound up to be too spicy. Hubby and I enjoyed it but Edie didn't like the heat, which was understandable. She did munch on the chips though.

Hood River Gyro - This sounded so good me since I don't usually have access to good gyros in Portland. While it was tasty, it wasn't anywhere close to the kind of gyros I'm used to on the East Coast and the meat itself was too mild in flavor. The Bulgarian feta they used to dress the sandwich however, was very delicious and flavorful. I offered the meat to Edie and she was a fan.

Salmon fish and chips - By far the standout of the entire experience, the fish was fresh and local and fried to perfection. It had a lovely crunchy exterior and was fun to dip into the homemade tartar sauce. The fries were excellent too and a perfect accompaniment to this comfort dish. Kiddos will love it too!

Grilled cheese - This was the kid's portion, which was pretty dang large. Edie managed to have just half of it, which was more than enough and she loved the melty cheddar cheese inside. You can get a choice of veggie sticks or fries as a side - we chose the former and it was great.

Kyla kombucha - A new item on the menu, Full Sail now offers boozy kombucha. If you're a kombucha fan, I couldn't recommend it more. I ordered the hibiscus lime flavor and it was refreshing and floral, but not overly strong.

Grown-up wins
Open air vibe - Great outdoor seating, which is also conveniently covered and heated on chilly days. The view is spectacular and in the summer, you can watch the sailboats and windsurfers on the river.
Comfort eats - The menu is packed with comfort food favorites like burgers, fish and chips, grilled cheese, wings and more!
Great service - Unlike the Portland dining scene, the service here (and generally in Hood River) is quick, friendly and efficient.

Kid wins
Great kids menu - I loved seeing all my faves such as grilled cheese, a burger, mac and cheese and juice! I had an apple juice with my lunch and it was yummy.
The view - It was fun to look out at the water and at "my city." I liked seeing the buildings across the river and showed them to mama and daddy.
Room to roam - While we waited for our table, there was room in the waiting area to run around and be silly.
Full Sail Brewing Co. - 506 Columbia Street, Hood River OR. 541.386.2247
Judith Rich