Proud Mary Cafe
I've been keeping Proud Mary Cafe on my radar for quite a while, as their Instagram account offered some gorgeous eye candy. Giving it a try first with my 5 month old, who seemed to soak up the chill atmosphere, and then with both kiddos for brunch, it was a big win. Not only is the food beautifully presented and colorful, it's tasty, interesting and unlike anything I've had in Portland. The fact that it's so visual is a big plus for the kiddos who ooh and ahh at the sight of edible flowers, fluffy meringues and tall smoothie glasses.

Here's what team Eaty Pie enjoyed about our visit: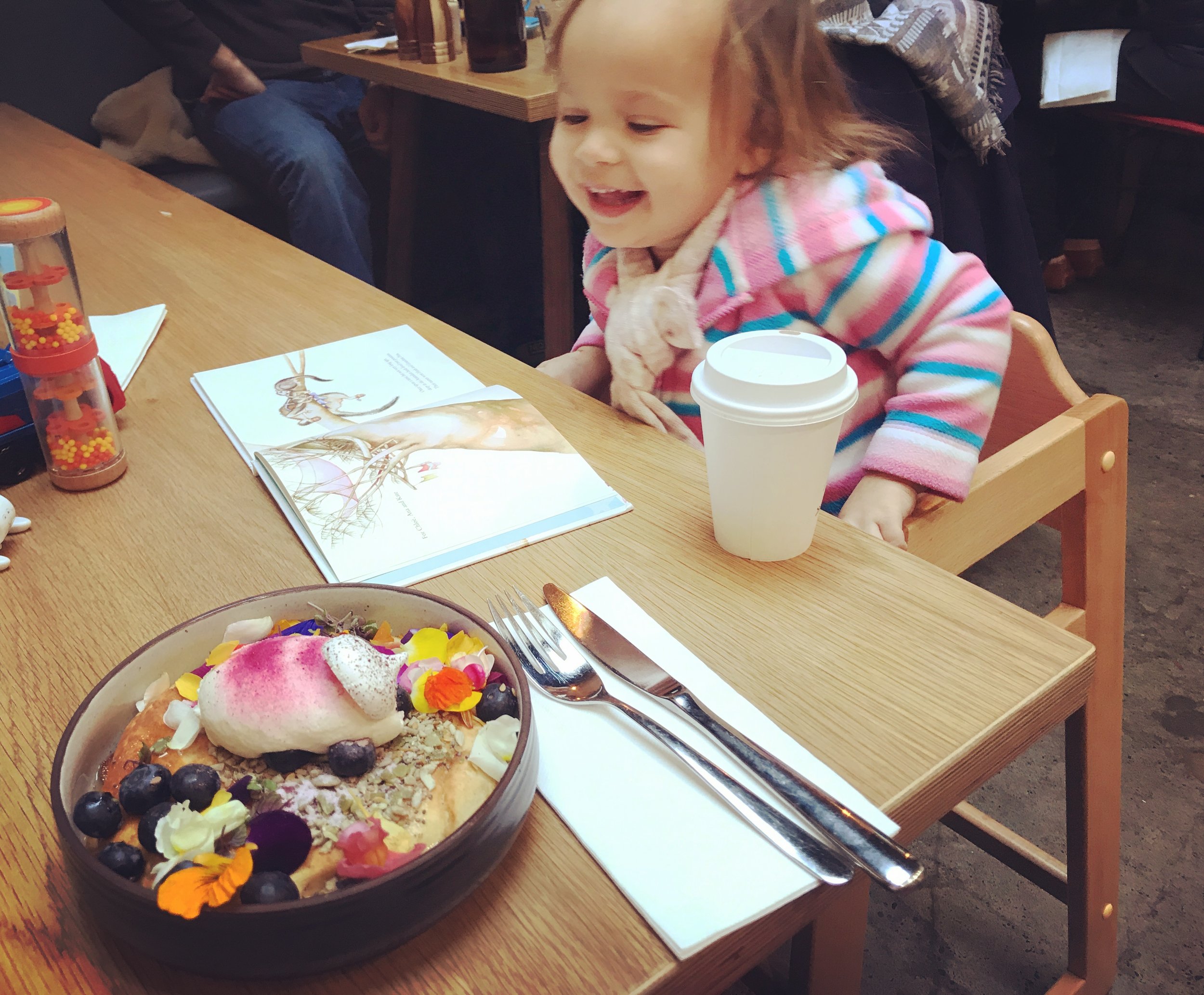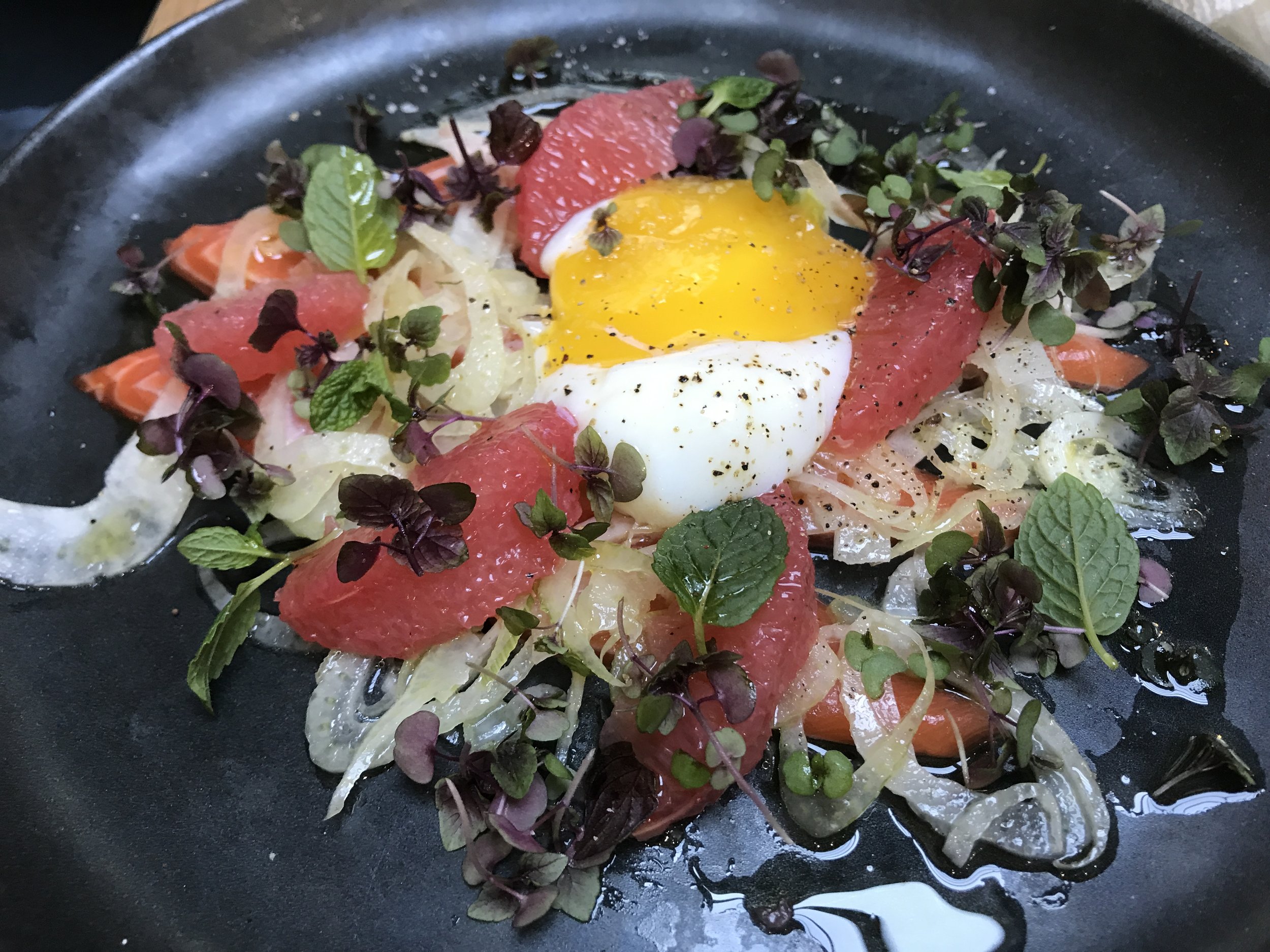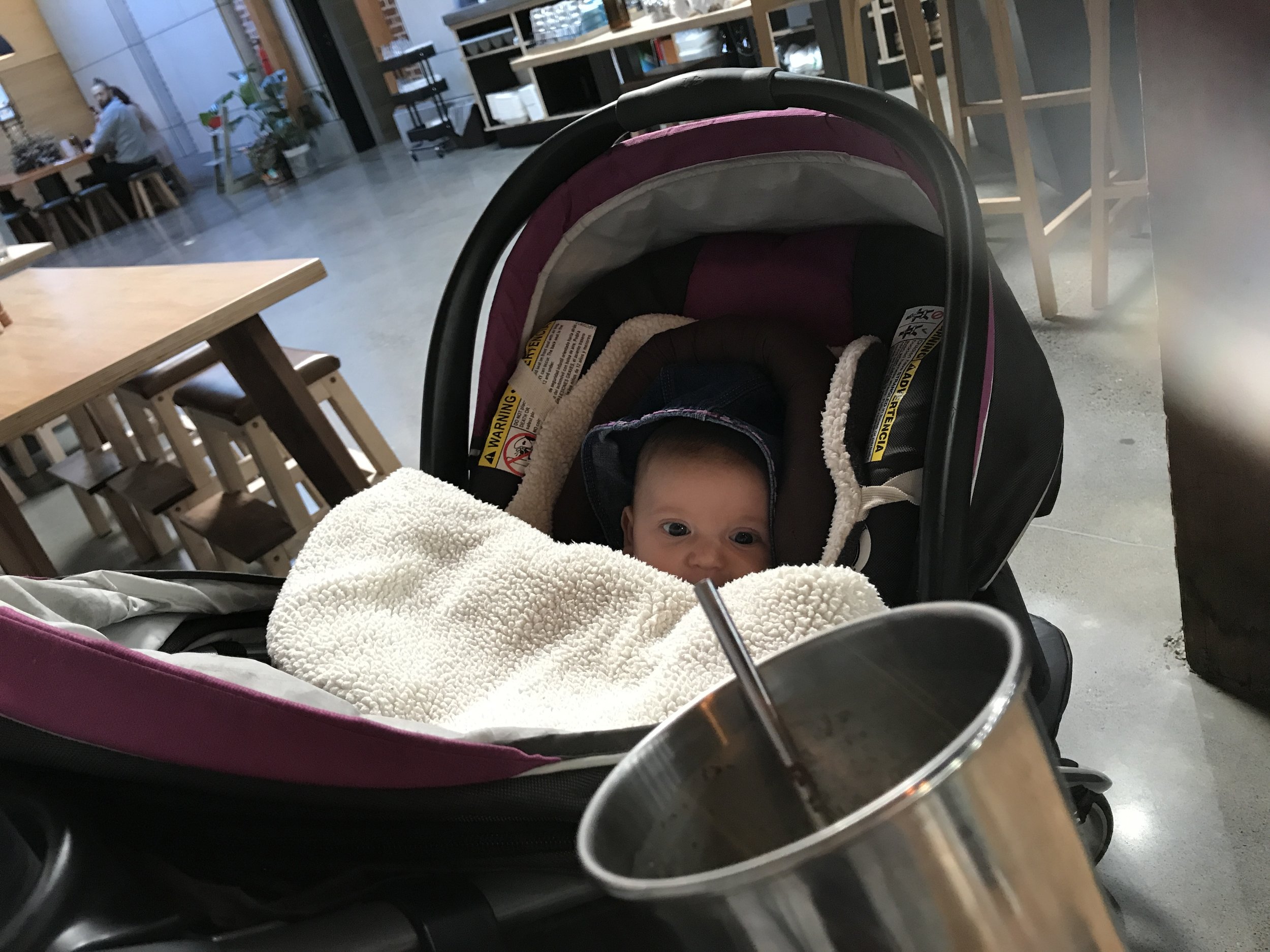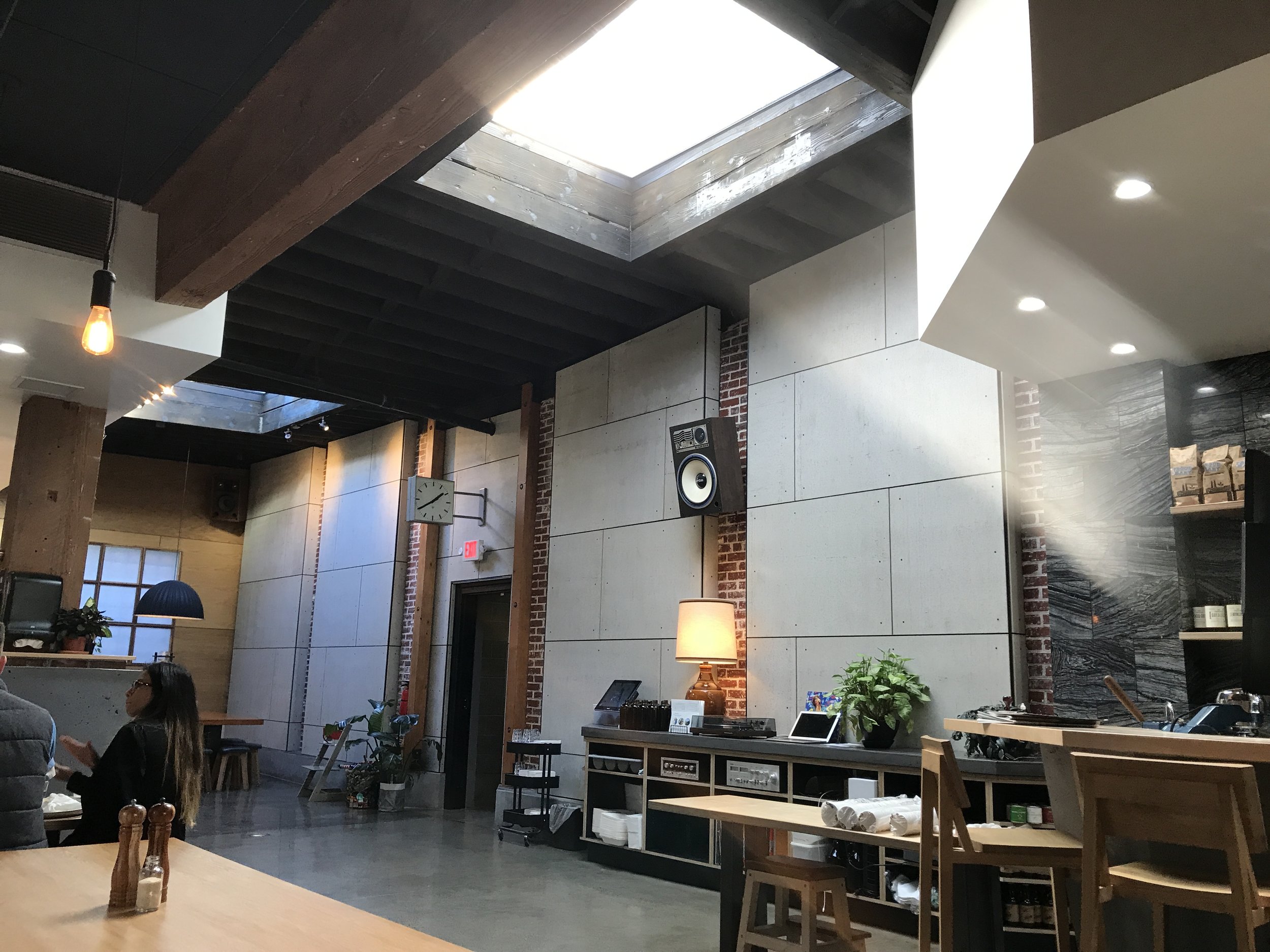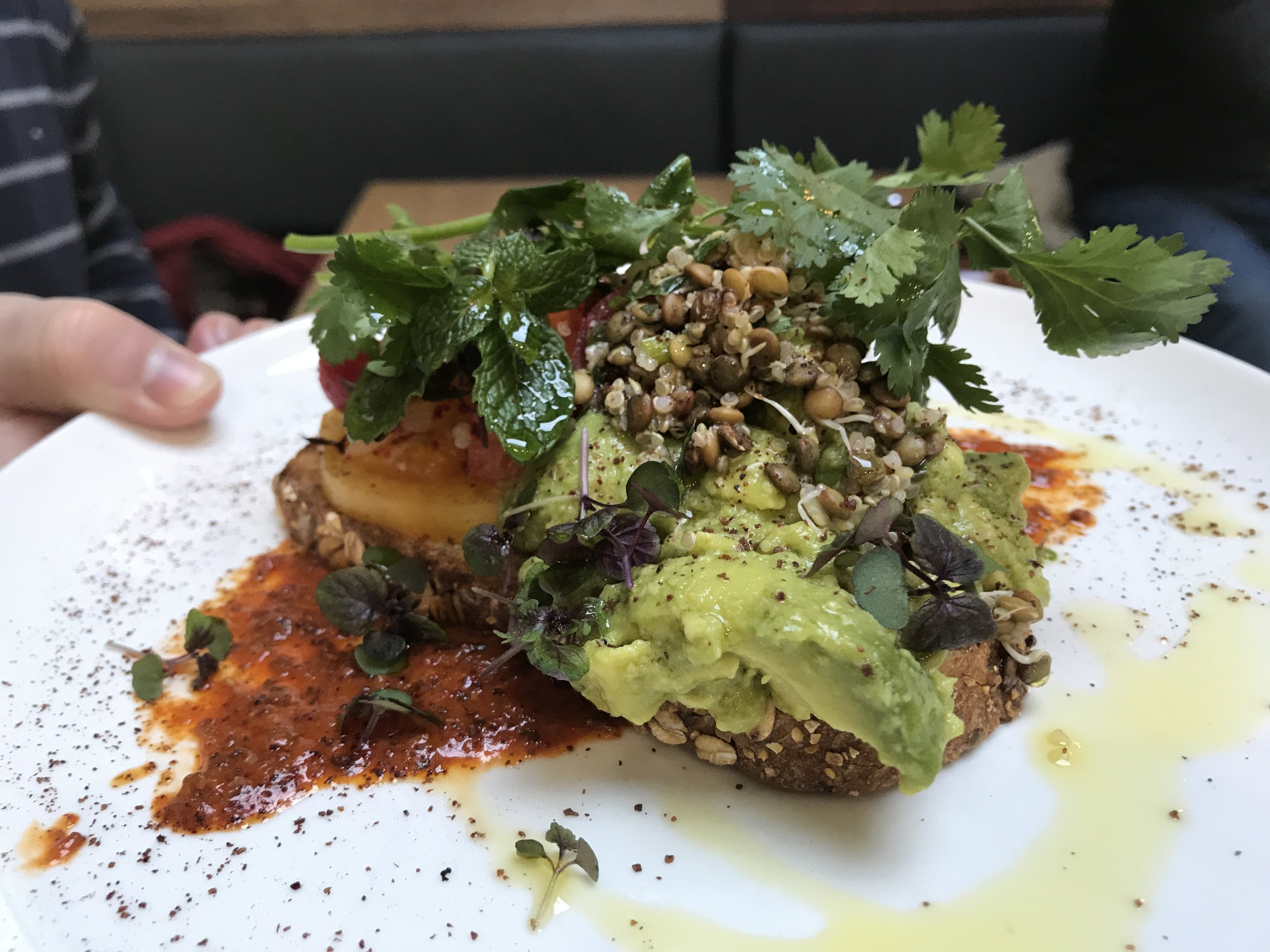 Mrs. Mia Wallace smoothie - I ordered this smoothie when I was first here with my 5 month old, Layla. Wow..it was HUGE! So large that I couldn't possibly finish it but it was delicious, packed with three of my favorite things - banana, chocolate and peanut butter. I saved more than half of it to bring home to Edie (2 1/2 yr old) and she was over the moon about it. I recommend splitting this smoothie with your kiddo or dining buddy.

Ricotta hotcake - This dish is an absolute must because...well...just look at it. It's an explosion of colors on a plate and really looks like an abstract work of art. The flowers are gorgeous and add interesting flavor. Edie went ga ga over the presentation, as you can see in this picture. The hotcake was so fluffy and delicious and is very suitable for adult and kid palates.

Breakfast sashimi - What an innovative dish! I've never seen anything like it on a brunch menu and hubby ordered it. Just like the hotcake, it looked beautiful and boasted a medley of pretty colors. The sashimi of the day was salmon and it was as fresh as can be. The grapefruit that came alongside it added a nice touch of citrus and bite.

Harissa avocado - Our friend Dave ordered this item, and if you're a big avocado fan, you're going to appreciate the hefty portion of it. I don't think this is the most kid friendly dish, as there's lots of spice and herbs on it, but grown-ups who like savory brunch dishes will enjoy it.

Grown-up wins
Sophisticated atmosphere - we loved the trendy, modern vibe. It feels elegant without trying too hard. The open kitchen concept is on display, which makes sitting at the bar fun, if you like that kind of thing.
Gourmet eats - Just like the atmosphere, the food isn't at all dumbed down (even for kiddos). Quite the opposite - it's elevated to the next level and the presentation makes you stop in your tracks.
Ample seating - It's nice to see a mix of seating, including large communal tables, bar seating and traditional two and four-top tables. There was also ample room for us to park our stroller near our table, which was a plus.
Kid wins
Colorful food - The food here looked pretty. I asked mama if I can eat the flowers on my pancake and she said "yes!" I also loved my fruity drink, which I shared with mama.
Comfy seats - I got my own high chair, but there were also cushy booths where I saw other kiddos sitting. There was plenty of room for kiddos to roam around.
Playthings - It was fun to read the books they had in their big crate, and the cool puzzles and toys. There's enough for everyone!
Proud Mary Cafe - 2012 NE Alberta Street, Portland, OR. 503.208.3475
Judith Rich