2017 Summer Food Guide for Kids
Summer is almost here, which means lots of opportunities to spend quality time with the kiddos. With Portland's rainy season coming to an end, it's exciting to consider the fun outdoor options. Here's a list of kid friendly restaurants, food carts, markets and out of town destinations that are not only great for outdoor dining but that in some cases boast specially designed menus for children. I'll keep adding to the list as I learn more and also feel free to send me your personal suggestions at: eatypiecritic@gmail.com.
Breakfast & Brunch: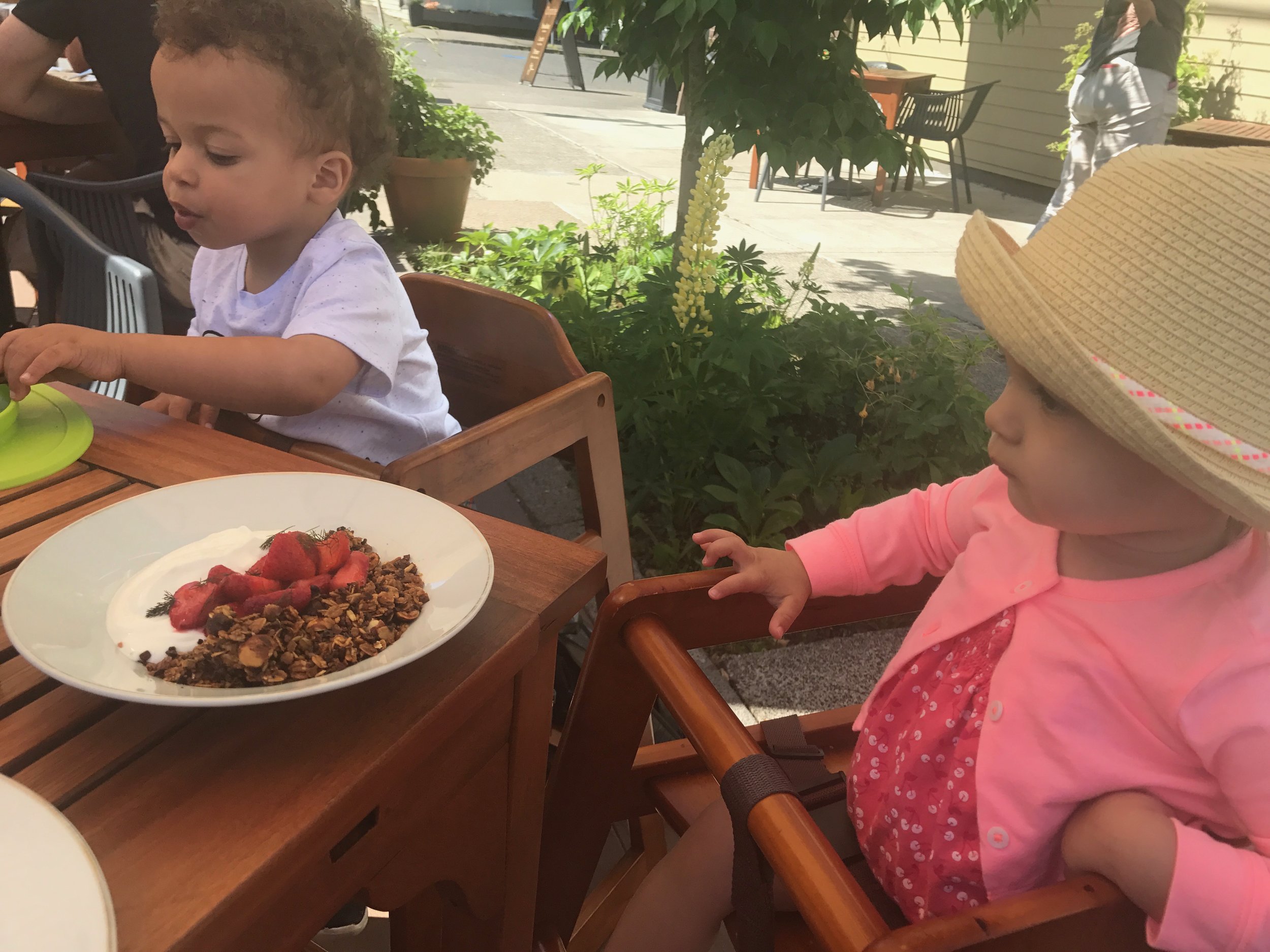 Coquine - One of the best hidden secrets in the Mt. Tabor neighborhood, Coquine is just steps away from Mt. Tabor park, so you can take the kids to the playground right after (or before) your meal. The quality of food is fantastic, and the cornmeal pancakes (pictured above) are especially tasty for the kids. There's a lovely outdoor area on the side of the restaurant that's quite comfortable. Four legged friends are welcome, too! (6839 SE Belmont St).

Eclectic Kitchen - Quirky, fun and casual, Eclectic Kitchen is a popular place to bring the kiddos. There's plenty of delicious food items to choose from such as their biscuit sandwiches, French Toast or a simple PBJ. They have a dedicated kid's menu, but don't let that hold you back, as the littles will love virtually everything here. There's plenty of booster seats and high chairs available. Hint: Visit this place on the weekdays if you can, as weekends get crowded. (4936 NE Fremont St).

Off the Waffle - Located in the quaint SE Clinton St. neighborhood, not far from SE Division Street, this whimsical waffle spot is a fun breakfast/brunch destination. Serving authentic Liege waffles that are coated in caramelized sugar, the kiddos will devour them. Because they're already sweet, they don't need any extra syrup or fixins but that's up to you, as there are plenty of fancy toppings available (i.e. Nutella, bacon, goat cheese). Like them on FB and Instagram to sign up for their weekly social media contest for a chance to win free waffles! (2601 SE Clinton St).

Poa Cafe - Known for their awesome indoor play area, this place is already popular with families of young children. Their food menu is conducive to little hands but I must say that the portions are quite large and nice to share with a friend. Edie especially enjoys their chocolate or peanut butter energy balls at just $1.50 a piece. On nice weather days, they open up the outdoor patio. (4025 N. Williams Ave).

The Big Egg - Home of the mighty egg breakfast sandwich, this fun destination on NE Alberta has a creative menu. They're currently featuring a pancake sandwich on sweet potato and orange corn cakes that the kiddos will love. Note that this place is only open on weekdays, so if you're enjoying a lazy summer day, this is your chance to go. (3039 NE Alberta St).
Coffee Shops & Bakeries: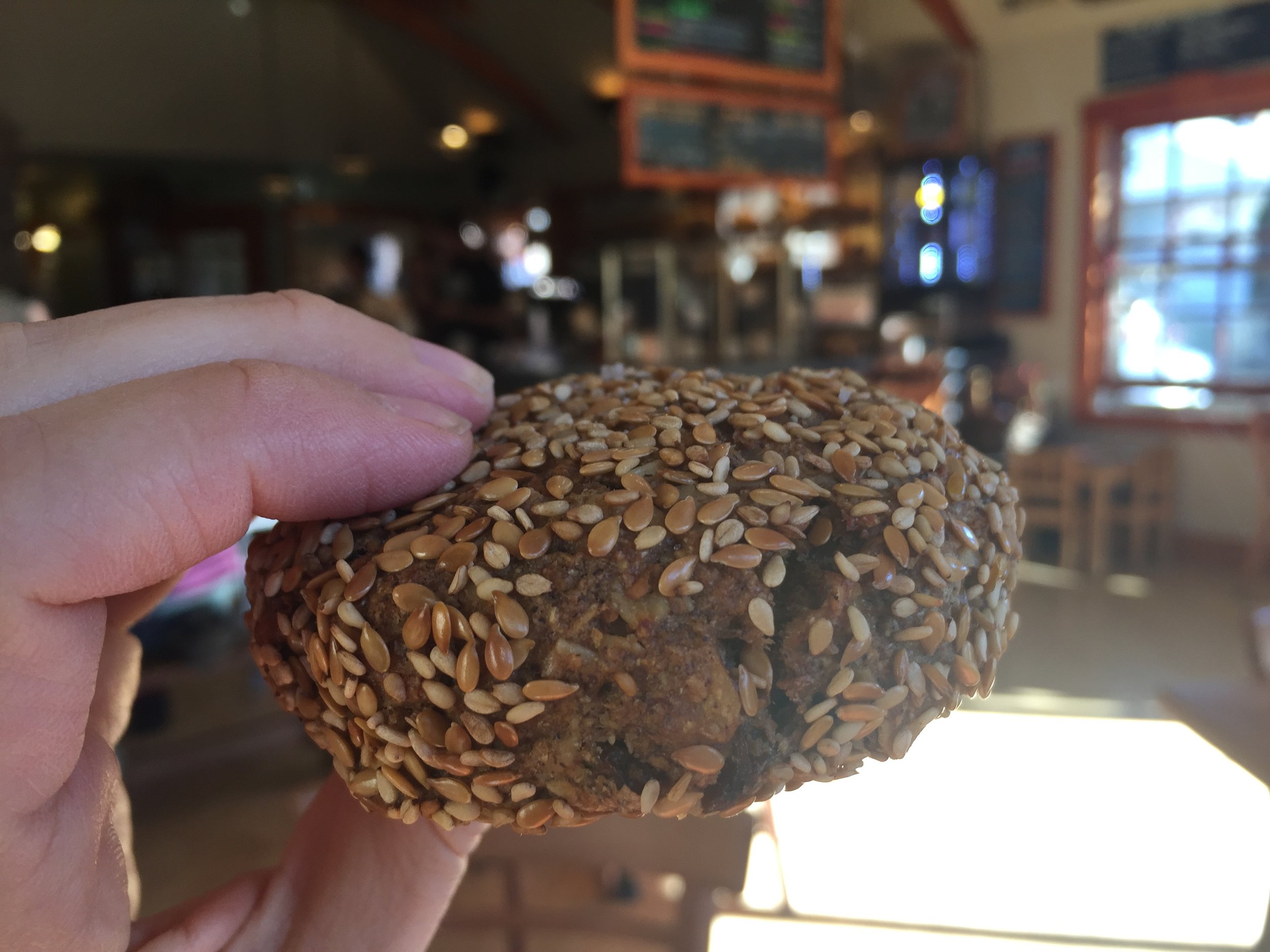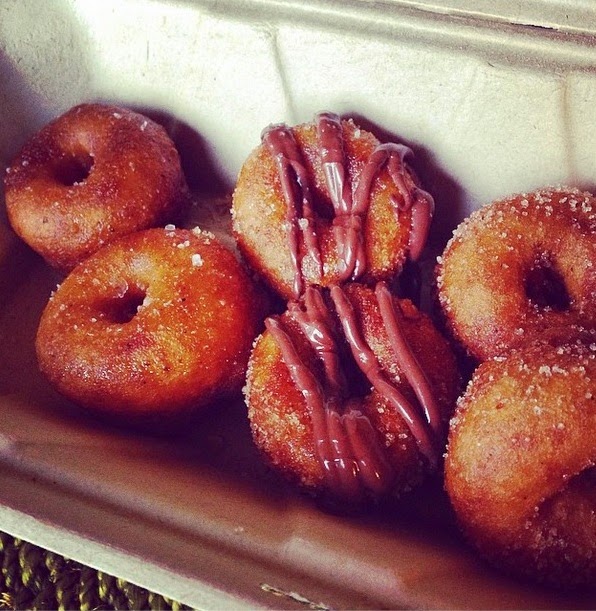 Miss Zumstein's - Attached to Old Salt Marketplace, Miss Zumstein's bakery is a great way to satisfy your sweet tooth after a hearty meal at the aforementioned eatery. They're most famous for their sticky cinnamon buns (served on weekends), but they have plenty of other goodies such as cookies, cakes, muffins and coffee for the grown-ups. Kiddos love their whimsy decor and their book/coloring area out front. (5027 NE 42nd Ave).

Pip's Original Doughnuts - I can't say what a kid-magnet this place is and for a good reason. Everyone who tries one can't resist their bite-sized, made-to-order doughnuts which come in exciting flavors such as Nutella & sea salt; cinnamon & sugar; raw honey & sea salt and a special flavor of the week. A dozen doughnuts will set you back less than $8! Also kids can watch the doughnuts being made on premises, which is super fun and a great way to keep them occupied. (4759 NE Fremont St).
Roseway Play Cafe - Not only does this cafe have one of the best play areas for kids, the atmosphere is welcoming for grown-ups too. They offer healthy light fare options, and needless to say, there's plenty of good snacks to choose from for the kids. It's also a fun place to host a 1-3 year old birthday party (as I can personally vouch for it!) (7135 NE Fremont St).
Tabor Bread - One of our all-time favorite bakeries, their indoor space is lovely and boasts a cozy "play corner" with toys and books. Kids of all ages gather there while the grown-ups order and enjoy their food. There are so many delicious things at Tabor Bread but our favorites include the breakfast sesame seed cookies (pictured above) and their flavorful focaccia bread. (5051 SE Hawthorne Blvd).
TaborSpace - Not just a community space for activities, classes and events, they also have a nice coffee shop with a big common room that features a play area. This is usually our go-to-place on days that it's raining, but note that they also have outdoor seating. Kids love their variety of baked goods such as scones, muffins, croissants (some of the whole grain variety). You will also find kid standards such as PB&J sandwiches, fruit pouches and the like. (5441 SE Belmont St.).
Destinations: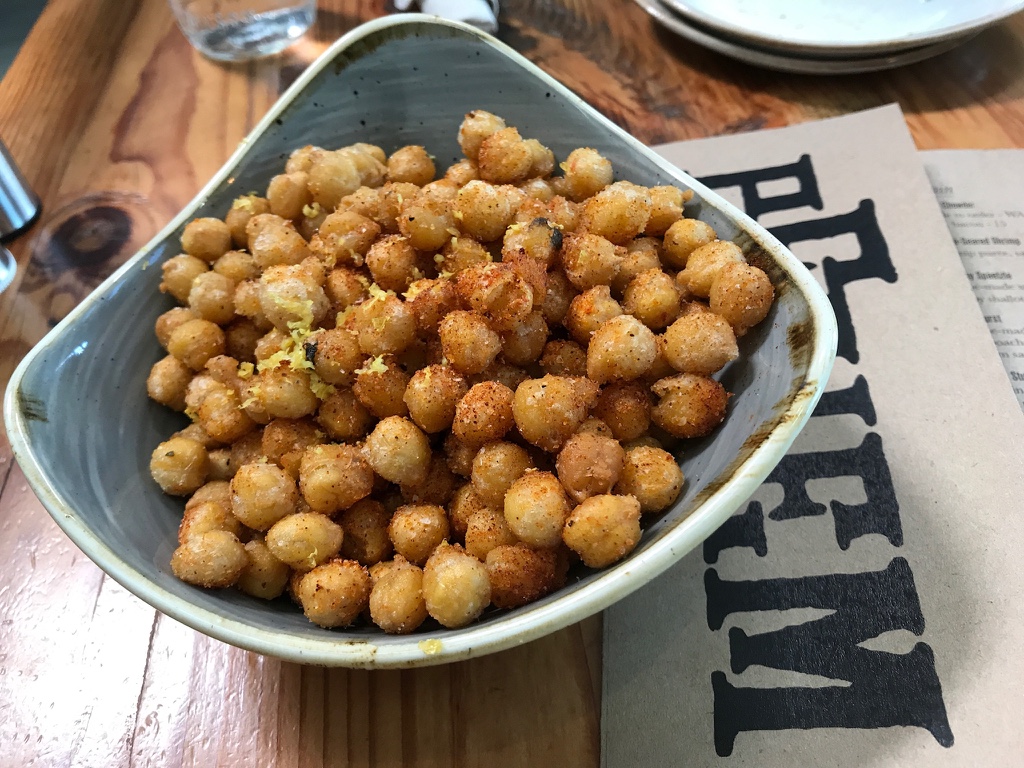 McMenamin's Edgefield - Less than 20 miles East of Portland is McMenamin's premium resort, which is an awesome way to spend the day. The grounds are just gorgeous to walk around during nice weather, and kiddos can explore their natural gardens, fruit trees and open grass area. There's also a large soaking pool in the spa and just like at McMenamin's Kennedy School, kids are invited. Power Station pub is a fun place to take the whole family, and children will enjoy a menu of mini burgers, grilled cheese, scooby snacks and other yums. (2126 SW Halsey St, Troutdale).

McMenamin's Kennedy School - A favorite for the whole family, the Kennedy School has something for everyone. The thing we love the most is their awesome soaking pool, which is very kid friendly. You can bring drinks in with you too, which is nice but not necessary in my opinion. After the pool, their Courtyard Restaurant is a good way to end your experience and the fare is the usual McMenamin's bar food (i.e. tater tots, burgers, pizza, mac n' cheese, etc) and the kids always love it! (5736 NE 33rd Ave).

North Fork 53 - Set in beautiful Nehalem, near the Oregon Coast, North Fork 53 offers the perfect family getaway. Its grounds are beautiful and offer plenty of room for the kids to run around and explore. The rooms are super comfy and again, pretty spacious. The hosts take special care and attention to ensure you eat well and you can expect to be greeted by delicious snacks, homemade food and local produce picked from their gardens. Our family spent Father's Day weekend there last year and couldn't recommend it enough. Note that you must now book the entire house, so pre plan with a group of friends and make it your own private getaway. (77282 Oregon 53, Nehalem).

Pfriem Brewery, Hood River - There's no doubt about it; Hood River has so much to offer! Pfriem is one of our favorite spots for lunch, and I can't say enough about their kid friendly facilities and food. From a beautiful play area inside the brewery to family friendly bathrooms, complete with extra diapers and wipes (in both the women's and men's room), you'll feel very comfortable here. The food and beer speak for themselves and some of our faves include the chickpea fritters, the cheese spaetzle and the duck sandwich. (707 Portway Ave, Suite 101, Hood River).
Ethnic Food: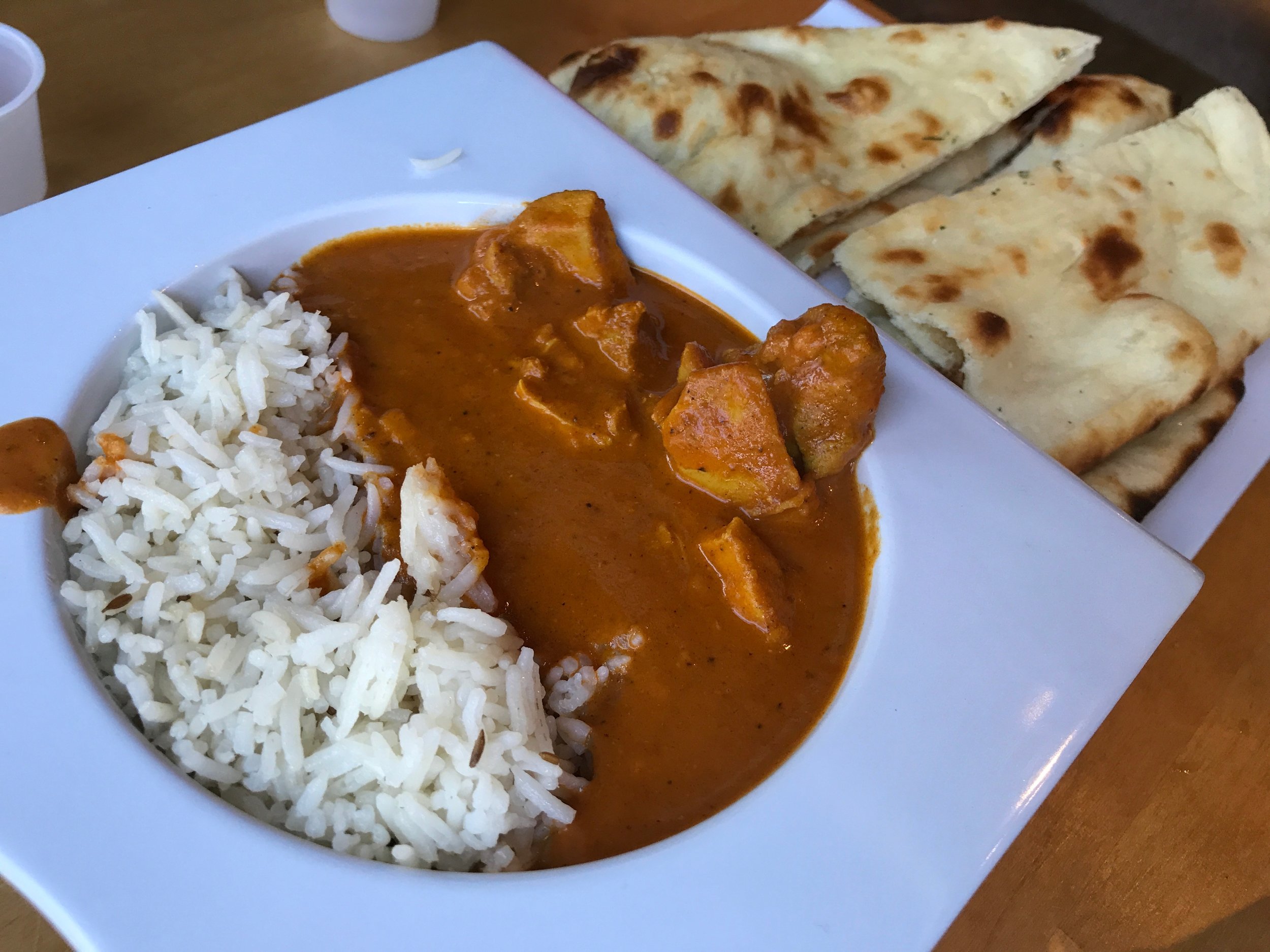 India Grill - Offers traditional Indian fare at great prices. I recommend their lunch buffet, which is only $9.95 per person and kiddos under 2 eat free. There's plenty of naan, chicken tandoori and sweet tamarind sauce to dip everything into. (2924 E. Burnside St.)

Las Primas - Peruvian street food and sandwiches are where it's at when you come to Las Primas. It's never too crowded and they have plenty of seating for kids, including those handy IKEA high chairs. A sampling of empanadas, quinoa salad and their salchipapas (little hot dogs with French fries) tend to be hits with the littles. (3971 N. Williams Ave).
Open Tandoor - A new, modern Indian restaurant in the N. Williams neighborhood, they offer a modest outdoor dining area. Even if you don't get to sit outside, the entire space has an open air feel so even their indoor tables give you that alfresco vibe. The children's food menu isn't dumbed down and offers everything from Chicken Tikka or Channa Masala and plenty of freshly baked naan. (4311 N. Williams Ave).
Stella Taco - Both the NE and SE locations are great for families with young kids and their children's menu is extensive. You'll find popular items such as a cheese quesadilla, both crispy and soft tacos as well as rice and bean bowls. All items on the children's menu are under $5. (2940 NE Alberta St. 3060 SE Division St.).

Ya Hala - Set in Montavilla, this Lebanese restaurant offers a lot in terms of flavor and variety. Kids will love their sampling of Middle Eastern dips, beans and veggie dishes. There's plenty for carnivore friendly options too such as swaharma and all sorts of skewers. Their fresh pita is so so good! (8005 SE Stark St.).
Food Carts: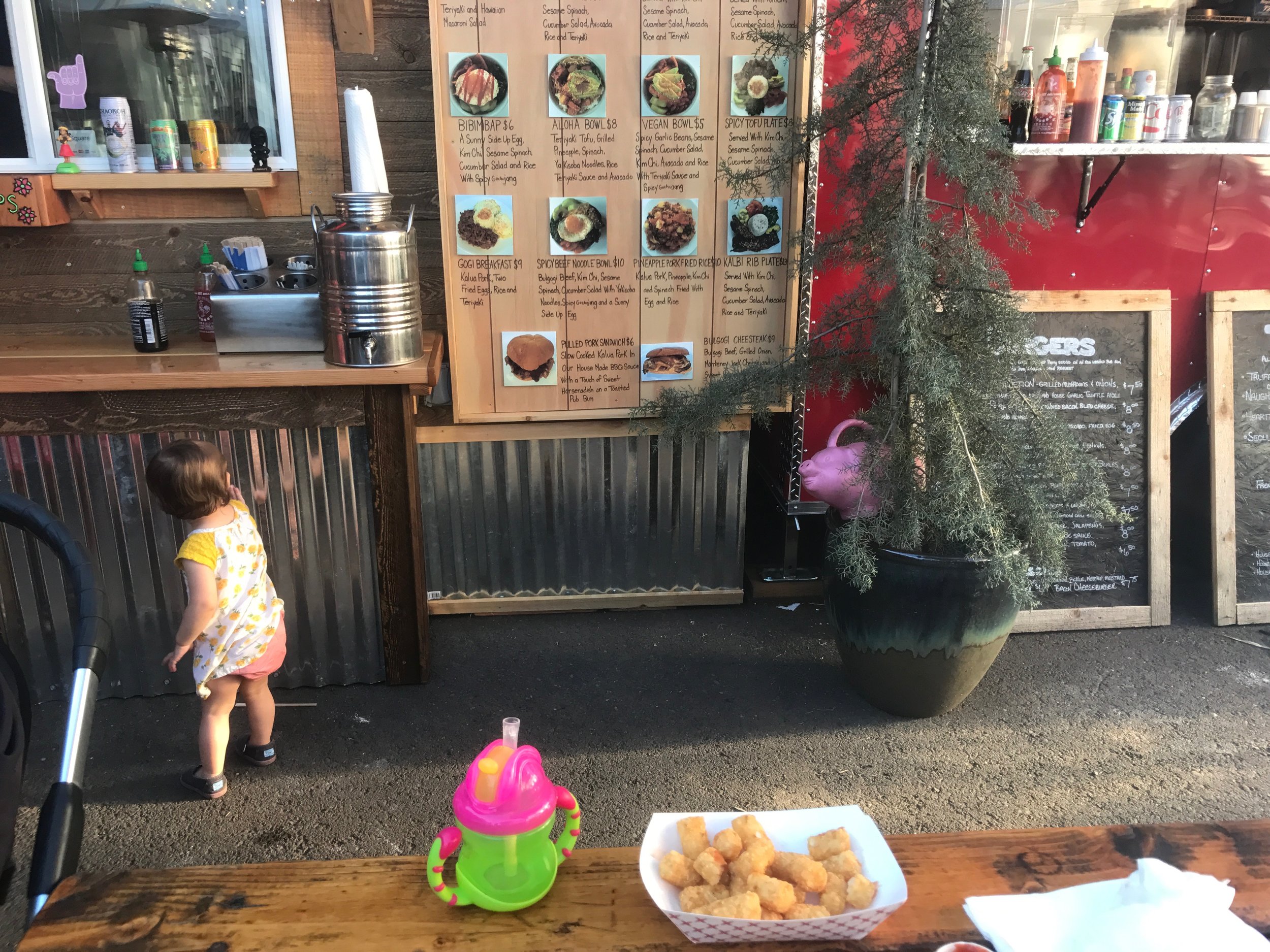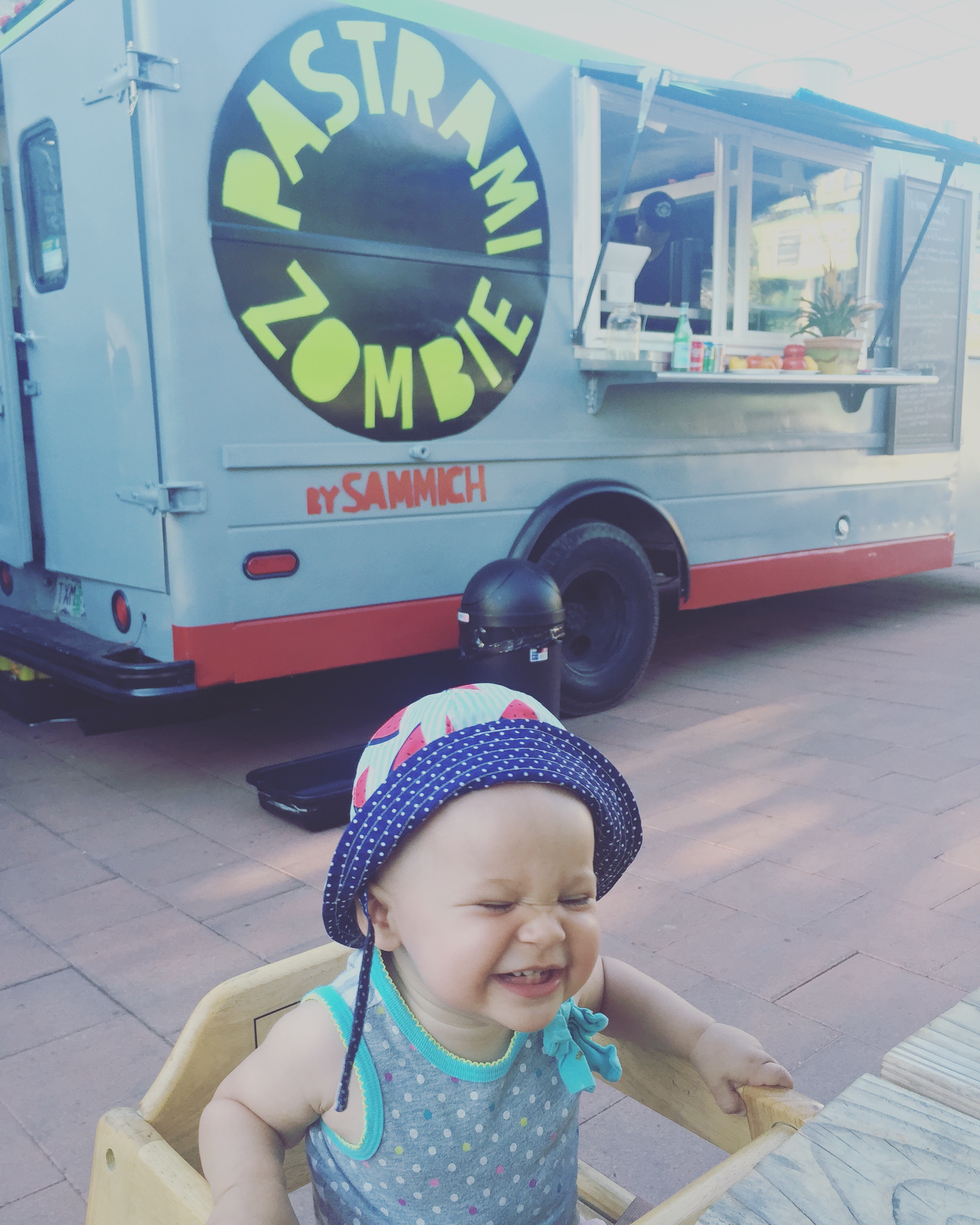 Bite on Belmont Food Carts - While on the smaller side, this food cart pod has everything you may need on a hot summer day. It offers plenty of shade and room to run around for the kiddos. There's plenty of kid friendly foods such as mac n' cheese, falafel, tater tots and cold ice cream shakes. (4255 SE Belmont St).

NE 42nd Avenue Food Carts - Again, on the smaller, more laid back side of food cart pods, this one offers my favorite sandwich "shop," Pastrami Zombie and Scoop Handmade ice cream. Don't forget about Pollo Norte, which isn't technically a food cart but a delicious Mexican rotisserie chicken joint with the most amazing homemade tortillas and juicy chicken. (5427 NE 42nd Ave).
St. John's Beer Porch - If you reside on the North side of town, you won't want to miss this delicious food cart destination. Sure, it has everything from a diverse food standpoint, but it also boasts local produce stand from Kruger's Farm, live music and plenty of indoor space in case it rains. (7316 N. Lombard St).
Tidbit Food Carts - Located on SE 28th Place and Division street, this food cart pod has it all - Mexican, Middle Eastern, hot dogs, tater tots, pizza, sushi and even sweet and savory waffles. There's plenty of seating and opportunities for kids to run around. Four legged friends are welcome too! Tip: make sure you put the kids in sneakers, as the terrain is made up of little pebbles. (SE 28th Place & Division Street).
Ice Cream & Fro-yo: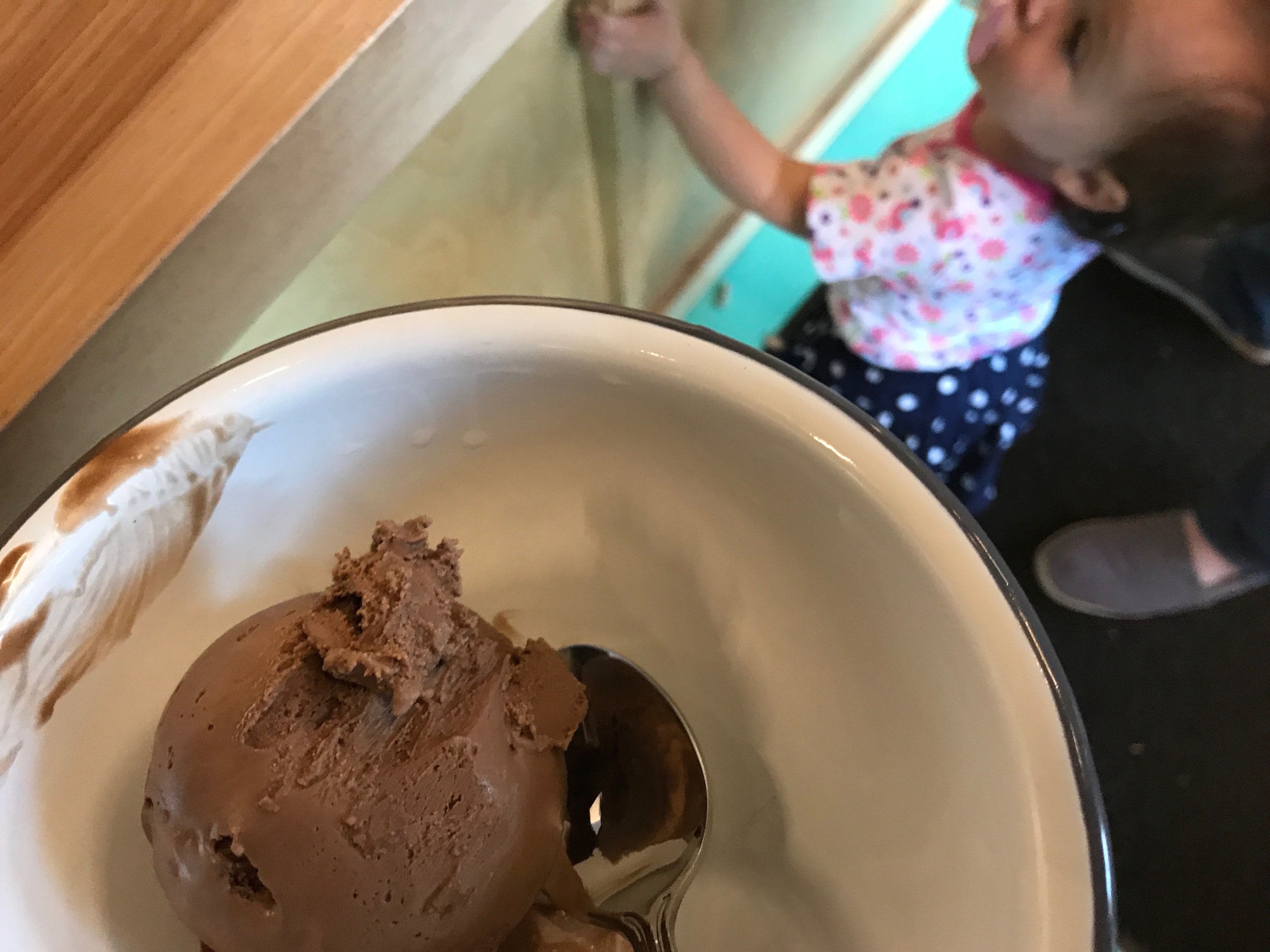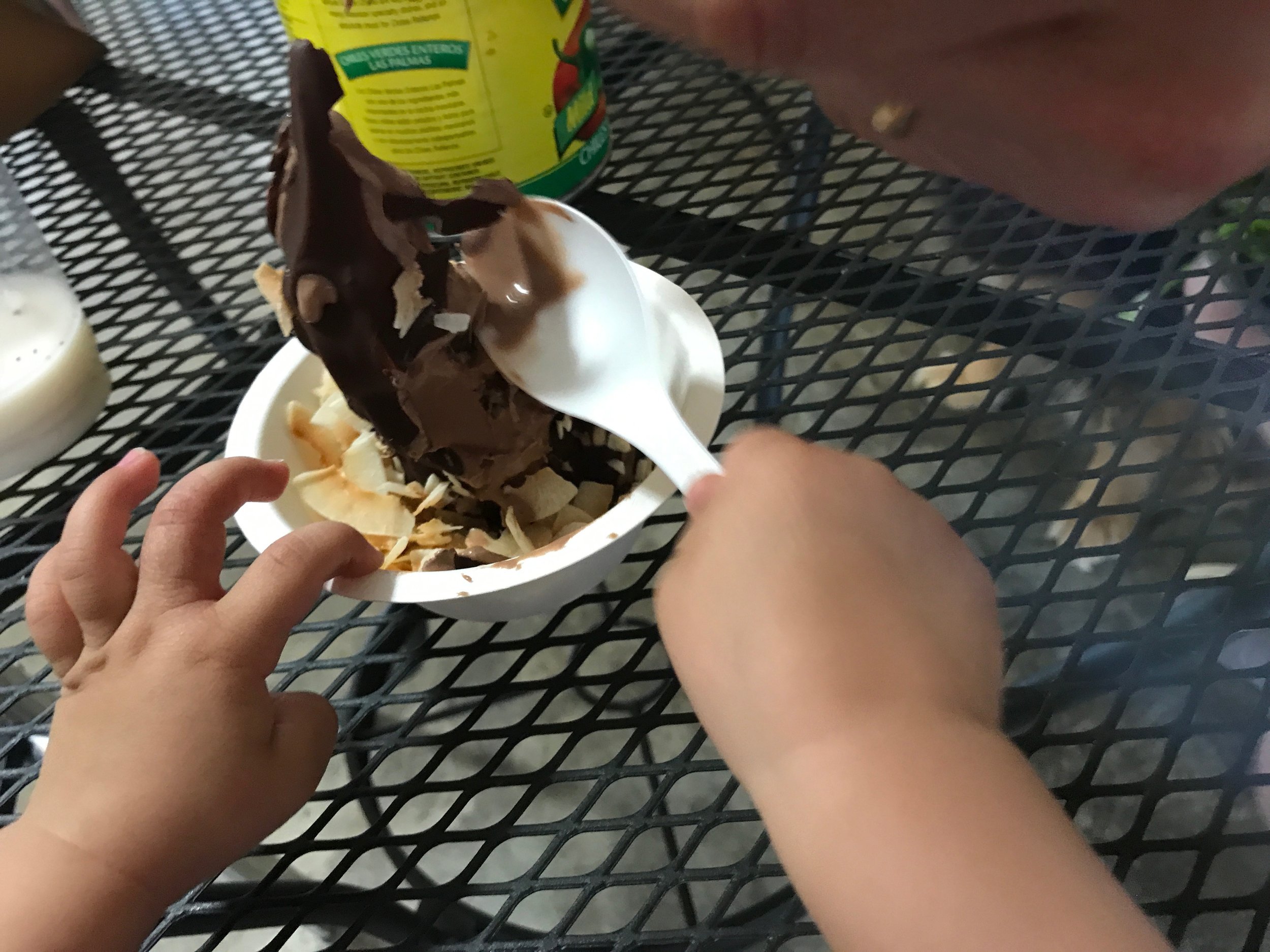 50 Licks ice cream - This new ice cream shop has quickly become a crowd pleaser. I love the spacious area inside, in which the seating is very conducive to little ones. As is the Portland custom, you're welcome to try as much as you like before deciding on your treat of choice. Their vegan options are also very delicious. (2742 E. Burnside St).
Eb & Bean - A major step up in the fro-yo scene, Eb & Bean features fun flavors such as honey lavender and salted pistachio but also tried and true classics such as chocolate. It's great to see they have something for everyone including dairy free options. The toppings are virtually endless and also feature seasonal fruit such as marionberries. (3040 SE Division St; 1425 NE Broadway).
Ruby Jewel - This popular ice cream spot is always a hit with kids. Sure they have fancy flavors such as banana cream pie, marionberry crisp, and coconut chocolate flake, but they also have good ol' faves such as cookies & cream, Oregon strawberry and vanilla bean. Don't miss their taco Tuesday ice cream special! (428 SW 12th Ave; 3713 N. Mississippi Ave; 4703 SE Hawthorne Blvd).

Staccato Gelato - Not too far from 50 Licks is Staccato Gelato, which is more under the radar but just as delicious. Gelato is made with milk instead of cream, which makes it a little easier to digest. Their flavors are plentiful and they even have tasty donuts and donut holes on weekends. (232 NE 28th Ave).
Markets: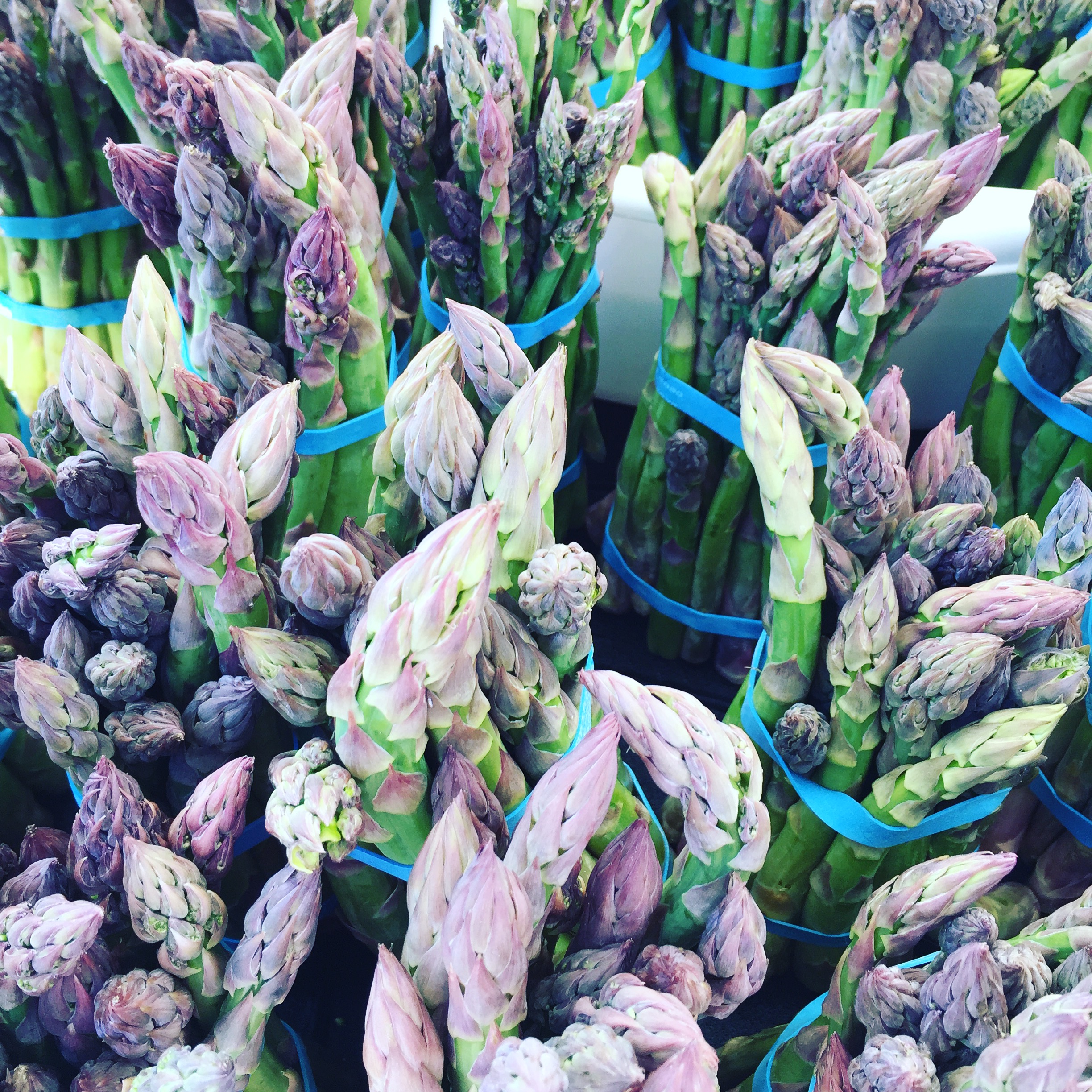 Cully Farmer's Market - One of the smallest of local farmer's markets, it's still a fun way to check out some local yums, which is especially nice if you have small children. They have a smattering of fresh produce, local wares and even a little used book library for kids. I remember Edie playing in the kid's section last summer and she loved it. Live music is often in store too. (Thursdays 4 p.m. - 8 p.m. June - August, 4 p.m. - 7 p.m. September; 5011 NE 42nd Ave).
Hollywood Farmer's Market - My favorite place for fresh produce and local, artisanal foods, it's a lot of fun for the whole family. Feel free to borrow one of their wagons and load it up with your little one as well as all of your shopping. Kids get a kick out of being pushed around and tasting the free samples from local vendors. Saturday mornings often bring live music, some of which features Portland's finest children's musicians. (Saturdays 8 a.m. - 1 p.m. NE Hancock St. between 44th and 45th Ave).

Montavilla Farmer's Market - If you miss Hollywood's Saturday market, you can always try Montavilla's, which is open on Sundays between 10 a.m. - 2 p.m. Not as extensive as the Hollywood location, this one still offers similar goods and vendors. There's a tasty option for sweet and savory biscuit sandwiches too, which the children will love. (7700 Block of SE Stark St).
New Seasons Market - One of the friendliest markets in town, they've got it all - delicious food, tons of free samples for the kiddos, kid friendly shopping carts, a lovely indoor (and outdoor) cafe area and activities for the whole family. Most New Seasons Markets have a dedicated room for events that include parents' support groups and music/story time for kids. (5320 NE 33rd Ave; 3445 N. Williams Ave; 1954 SE Division St; 6400 N. Interstate Ave; 3210 NE Broadway; 4034 SE Hawthorne Blvd).
Pizza:
Bella Pizza - Dining here is always a fun time for kids and adults alike, and it's never a "scene." Their outdoor patio is a best kept secret, as it's never crowded and there's plenty of room for the little ones to run around. You can get pizza by the slice, if that's to your liking, but personal pies are available too. Their sausage garlic knots are the bees knees! (2934 NE Alberta St).
Handsome Pizza - Known for their kid friendly atmosphere and lots of things to play with, Handsome pizza isn't just a place to take the littles, it also has fantastic, thin crust pizza. Doubling up a bakery (Seastar Bakery) in the daytime hours, you can come whenever you like and they'll always have something tasty to enjoy. Their vegan pizza is also great! (1603 NE Killingsworth St).
Life of Pie - Boasting the best pizza happy hour in town, you can get your own personal margherita pizza for just $5 everyday between the hours of 11 a.m. and 6 p.m. Not only is the pizza dough airy and delicious, they use low gluten flour in their crust, which is easier to digest for a lot of folks. Their outdoor seating is lovely but hard to come by on nice weather days. (3632 N. Williams Ave).

Lovely's Fifty Fifty - I seriously can't get enough of this place. Not only is it located in the very awesome N. Mississippi neighborhood, everything there is made to perfection by using very high quality ingredients. They don't dumb down the kid's menu but do offer a smaller margherita pie for the little ones. Edie enjoyed her pizza very much and kept pretty busy, given the generous amount of toys they have to play with. Their high chair and booster seat game is also strong! (4039 N. Mississippi Ave).

Red Sauce Pizza - Another great pizza option in the NE 42nd neighborhood, Red Sauce's pizza flavors and variety are impressive. They have plenty of indoor seating (and highchairs available), but their outdoor patio is the best part. Portions are generous and I'd also recommend a side salad with your pizza. You can play a game of cards or read to your kids while you wait. (4935 NE 42nd Ave).
Judith Rich