Chesa & 180
Upon first glance, you wouldn't necessarily characterize Chesa as a place you'd bring the kiddos, but after frequenting it several times now with Edie I can assure you that the kids (and the adults) will love it. Of course this is a fabulous place to visit sans children, as there's lots of interesting things on the menu, the paellas are an absolute delight and the cocktail menu isn't at all lacking. An added bonus to this place is that 180, the xurros and chocolate place is right next door and is fun to hit up for dessert. Again, kids and adults found it eventful.

Here's why team Eaty Pie loved it as well as a play-by-play of what we got: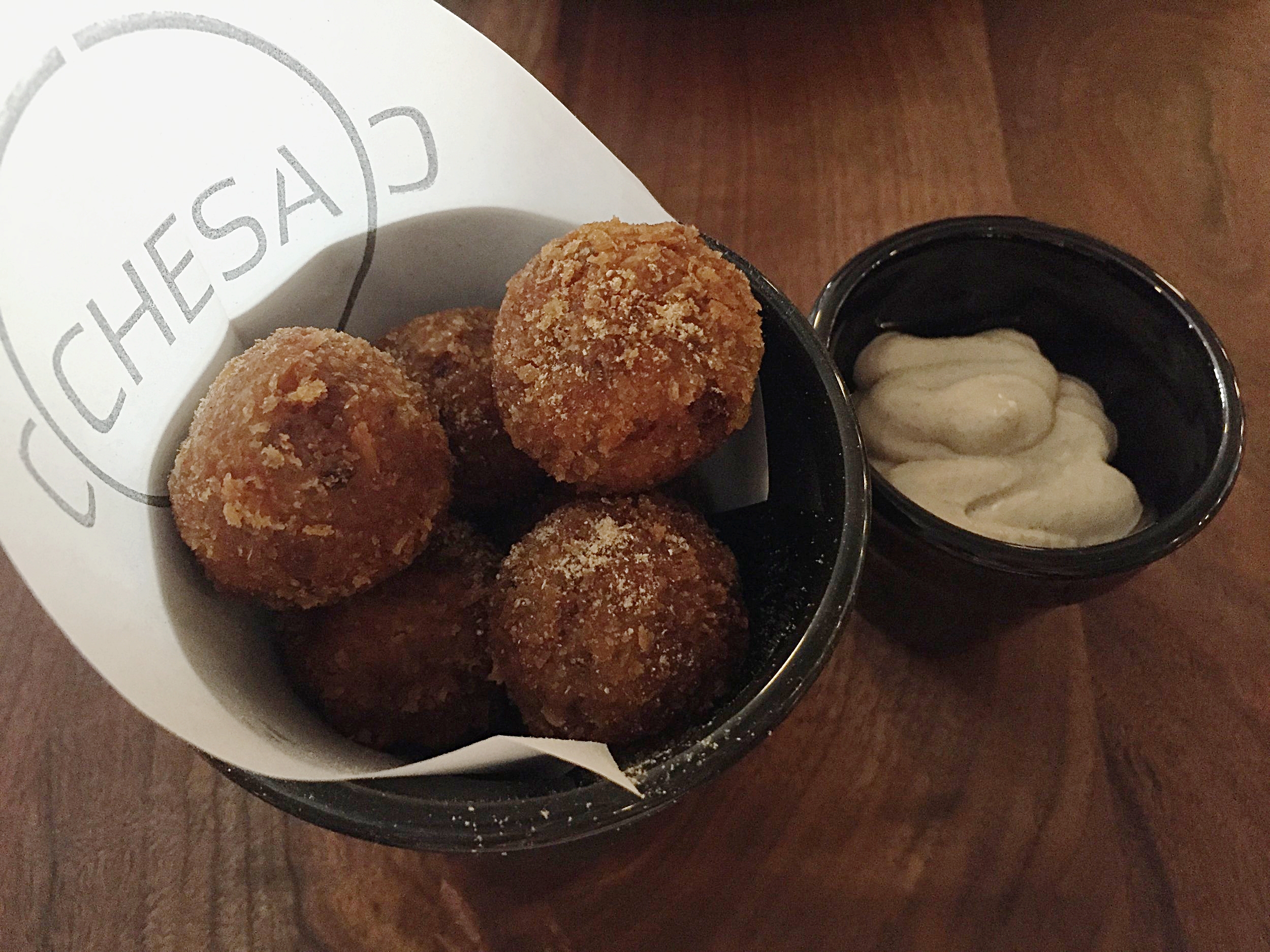 Bravas - The patatas bravas are on the saucier side, and despite them lacking some crunch, they were a crowd pleaser for both adults and kids. They're also not very spicy which makes them nice and shareable.

Tortilla - Edie's friend Julian (almost 2) got this dish all to himself and seemed to love it. Again, it's a hearty dish but light on the spices. It's hard to find someone who doesn't love a combination of eggs and potatoes.

Nuestra Croqueta - These mushroom croquettes were hands-down my favorite, as they were perfectly crispy on the outside and tasted like delicious mushroom soup on the inside. Accompanied by a porcini sage aioli, the dip gave them a hint of sophistication.

Chesa Paella - We had to try Chesa's namesake paella, loaded with rabbit, iberico ham, hearty beans and that irresistible crunchy rice you get from cooking it inside a cast iron skillet. The end result was rich and flavorful, and we found that a little went a long way.

Mar i Montana - This paella included surf and turf with braised oxtail and prawns, a classic sofrito and scallions. The oxtail was really tender and its juices flavored the rice perfectly, painting it a gorgeous mahogany color.

Porron - A really fun part of the meal, a porron is a special drinking device you can use for cider, wine or what have you. We opted for the cider and loved passing the porron around, and tried hard to aim it into our mouths without spilling. Not an easy feat but a fun challenge.

Xurros - Ending the meal next door with delicious xurros y chocolate is a great idea and any combination you get is a winner. My personal favorite are the plain xurros and I love dipping them into the thick homemade chocolate sauce. Although I didn't share them with Edie (too much sugar), my nephew Jonah loved them. Eaty pie tip: If you visit 180 on Wednesday, every purchase (yes every) is accompanied by 3 free xurros.
Grown-up wins
Sophisticated food - I looked forward to dining in a gourmet setting with high end food, but not high end prices. Everything looks very elegant and is as tasty as it looks.
Great cocktail list - Chesa's cocktail list matches their interesting food. The porron was a lot of fun and we loved passing it around the table. No matter what you get for a cocktail, notice their stemware; it's really unique!
Chef access - Not only were we seated right by the open kitchen, we also received lots of attention from Chef Jose Chesa himself. He was especially wonderful to the kiddos who found him amusing.
Kid wins
Front row seats - I got the best seat in the house, and loved watching the people in the kitchen move pots and pans around, making all sorts of fun noise.
Personal attention - A really nice man in a white coat that everyone called "Chef" talked to Julian and me. He asked what we wanted and not long after brought us some crispy potato things that I gobbled up.
Room to roam - It was fun to practice my new walking skills and especially next door at the xurro place. It smells really sweet in there and the people smile and wave a lot.
Great bread - Sometimes, I just can't wait to dig into something yummy. The nice waitress at Chesa brought me delicious, crunchy bread and just kept it coming.
Chesa & 180 - 2218 NE Broadway, Portland OR. 503.477.9521 (Chesa), 503.477.9163 (180)
Judith Rich